We love our Halloween tradition of dressing in a family costume. I know these days are limited, especially with two boys on the cusp of teenage-hood. Nova has been a good sport (mainly because she was too little to have an opinion). We were Stranger Things (which she had not seen), we were rockstars (I had to show her videos to get her excited about being Madonna), We were Adam's Family (by telling her Wednesday was like a princess with an attitude), she was Prue when the boys read Wildwood, and Hermine when they read Harry Potter, and her first Halloween she was Baby Groot in our Guardians of the Galaxy family costume.
So this year, when she had a request to be Dorthy from the Wizard of Oz, the boys sweetly agreed.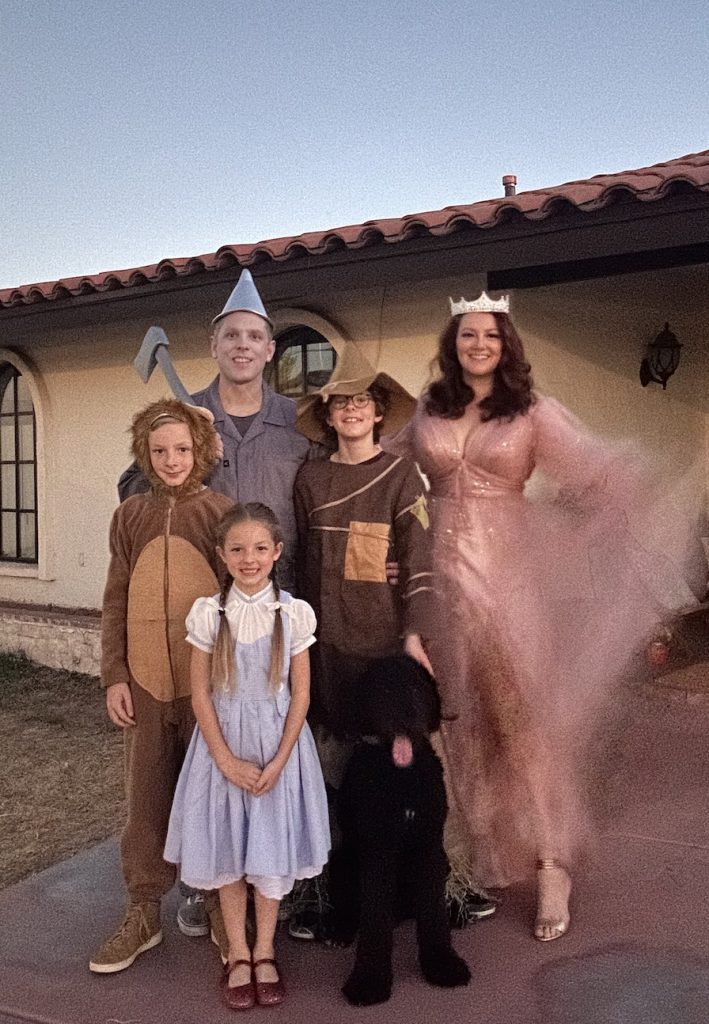 If your family is wanting to dress up as the characters from The Wizard of Oz, here's a few pieces that we bought online:
Glinda Pink Dress (What a show stopper!), Crown
Dorothy Dress, Red Sparkle Shoes, White Ribbons
Tin Man Suit, Silver Ax, Tin Man Hat
We were able to thrift the Lion and the scarecrow, but here are two similar ones: Lion Costume, Scarecrow Costume
See a video of our Wizard of Oz family costumes here. Thanks for reading, hope this helps you. Let me know if you have any specific questions that I didn't address.