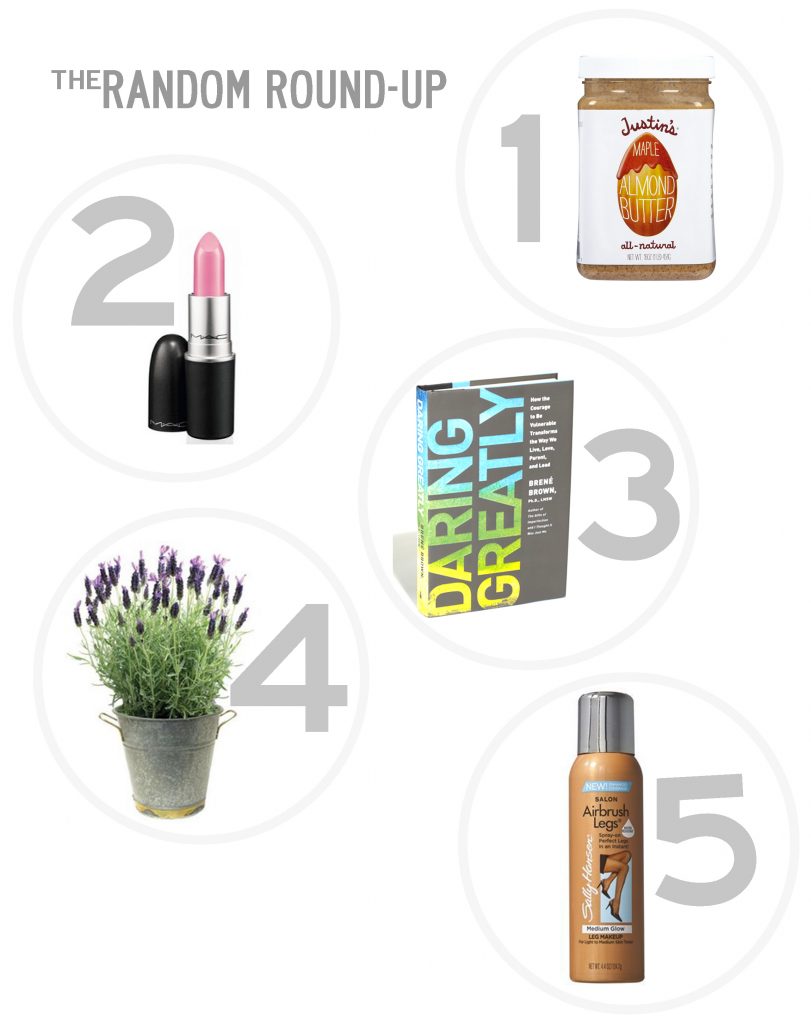 Hi there! So I am calling this new little series of posts, The Random Round-up. What do all of these items have in common? Nothing actually, other then they all share a common denominator of awesomeness and I love them all.  And whenever there is something that I am loving, I just have to share it. So here's what's up with the above, below…
1. JUSTIN'S MAPLE ALMOND BUTTER: If you follow me on instagram then you know how seriously I take my peanut butter. I first became smitten with Justin's Peanut Butter after it's adorable and modern package design lured me into buying. I took it home, dipped a pink lady apple slice in it and was NOT disappointed. However, everyone (and I mean everyone) kept telling me that I needed to try the Maple Almond butter. So while at Target (of course) I picked up a little packet of the stuff for 99 cents. I loaded the grocery's and the Loo into the car,  and in a matter of seconds ripped it open and devoured it's entire contents before I even left the parking lot… My mind was fully blown! So I picked up a full size jar at Sprouts the next day for a whopping $10. This is high dollar nut butter my friends, and worth every penny. I have been enjoying it daily… what a delicious treat!
2. MAC SAINT GERMAIN LIPSTICK: Okay, so I am red lipsticked out… don't get me wrong, I love a strong red lip in a shade of poppy or crimson, but I am ready to move on to something fresh and fun for the summer season! So move over red and hello pink! Now there are a million shades of pink out there, some are subtle and barely there, some are those traditional rosey shades your cute grandma probably wears,  but I have recently discovered this perfect shade of pink that will make your lips scream "POW!". Yes it is time to embrace your inner barbie, call up ken and jump in the corvette and sport this very pink lip. It has a more matte quality that I am loving. However you can get the very same shade in the lip glass if you prefer more of a glossy pout. Now, If this pink is just a bit too bright for you then you can always tone it down with a bit of nude gloss which I do when I am looking for the presence of that hot mod shade but need to take it down a few notches in intensity. Remember no shade is final, think like and artist and layer and mix it up with other lipsticks or glosses to personalize your own shade. And much like the bold red lip, the bold pink lip can stand quite nicely on it's own two feet, no need to go overboard with the rest of the face, keep it clean and fresh with neutral tones, a lashy eye and a hint of color on the cheek and you are ready to go-go!
3. DARING GREATLY… So I am not yet finished with this book, but I sure am loving what I am getting from it this far. I first heard about this title from my friend Ashley of Little Miss Momma. She just gushed about how inspired and liberated she felt to become more brave in her creative expression and in her life that I was fully on board with picking up a copy and reading it for myself. So first thing I did was watch the author Brene Brown deliver a great Ted Talk, (do you ever watch those? you should, so inspiring!) and then I was furthermore inspired to get to soaking up the wisdom of Daring Greatly. You can of course buy the digital copy for you ipad or kindle, or you can walk into one of those old fashioned book stores and find yourself a big heavy hard bound copy and hold it in your hands and flip the pages between your fingers.  Whatever way you fancy, it is sure worth the read. As someone who depends entirely upon creative expression to thrive, create, work and live, I've learned the only way to do our best work is to be authentic, and the only way to authenticity and honesty is through vulnerability. It is a scary scary thing to be vulnerable, to feel exposed, to put yourself out there.  Indeed it takes a great deal of courage, to risk your heart, to face fears of judgment or criticism or rejections if we were to reveal ourselves authentically. More then ever before, our world is a stage, we are always performing, putting our lives on display, from instagram and facebook to vine and beyond… we're all putting ourselves out there, but what filters do we hide behind to mask the things that make us real? Are we enough without the filters, the embellishments, manipulations and the illusions of perfection? Well, Brene tells us we are, and shows us how to be brave. Read it…
4. LAVENDER: There is almost nothing as beautiful and luxurious as fresh flowers, if only I could keep them alive! Because of the fast paced life we live, If there is any hope for a living plant in my home, it needs to be hearty and be able to sustain missing a watering here and there. Now my thumb isn't the greenest, and I don't know a whole lot about lavender, but I find that this plant works for me! Not only does it smell incredible, but I love its wild and natural look with little purple blooms, I put several pots in a long bright coral planter box on my dining table and it is just a gorgeous site, I love walking past it, it makes me happy. I am a firm believer in making our surroundings a place where we want to be, that inspires us and uplifts our spirits… just a few pretty things around us can make the difference. Try lavender as a pretty pick me up to last you through the summer, and when it's over and they begin to dry out, you cut off the tips and crush them into a little bowl to sustain the scent, or put it into a little fabric bag to throw in your drawers and freshen them up! I pick my Lavender up at Trader Joe's or Sprouts for $7.
5. SALLY HANSEN AIRBRUSH LEGS: Calling all my girls with ghostly gams! Indeed I am Brooke WHITE, basically I have the whitest legs in the west… or North, South and East for that matter. Summer and I often have a pale contest, and we're neck n' neck. But with her dark hair and perfect complexion she is pulling it off. Fair skin is lovely and delightsome, but If you have felt a bit self conscious of showing your super pale leggies like I always have, or you tend to hide them beneath pants and pioneer length dresses and skirts, then this magical potion is for you! I have been a believer and user of Airbrush legs for several years now since a make-up artist on the set of a movie I was in pulled out a can of this stuff to give my legs a golden california glow. I have since shared this secret with other photographers and make-up artists who are now too, fully converted.  Like many sunless tanners, the trick is to avoid the lesser sexy oompa loompa look, and what I like about this formula is that it's instant, washes off easily and yet stays put through out the day, and you can easily build the color and intensity. Now it has taken some practice, applying self tanner is an art form, one in which I have perfected. Here are my few tips for ya… (1). Make sure your skin is moisturized but dry to the touch before applying  (2.) Spray it directly to the legs (or arms, whatever) in a little patch or line and then start working the formula all over the area, I suggest rubbing it into the skin in circular motions. Continue to do this until you've covered the whole area desired. (3.) If you want it to look a bit darker, just apply more and blend it in. Go easy! (4.) When you've finished applying, let it air dry for a minute, then take a paper towel and buff  the area out smoothing out any blotchiness or lines, especially in the transitions to the feet, always a weird zone for tanners. Buffing will also help to keep the color from transferring to your clothing or car seats! (5.) Lastly, wash your hands with soap and water and it will come right off! I can guarantee you are going to love this stuff, it's a bit high maintenance but it totally makes the legs look leaner, longer and smoother. A lil' bit of confidence in a can! (Note: unfortunately this wouldn't be the best option for swimming, not waterproof!)
Have you tried any of these wonderful things? What's your favorite and why?
: )Brooke