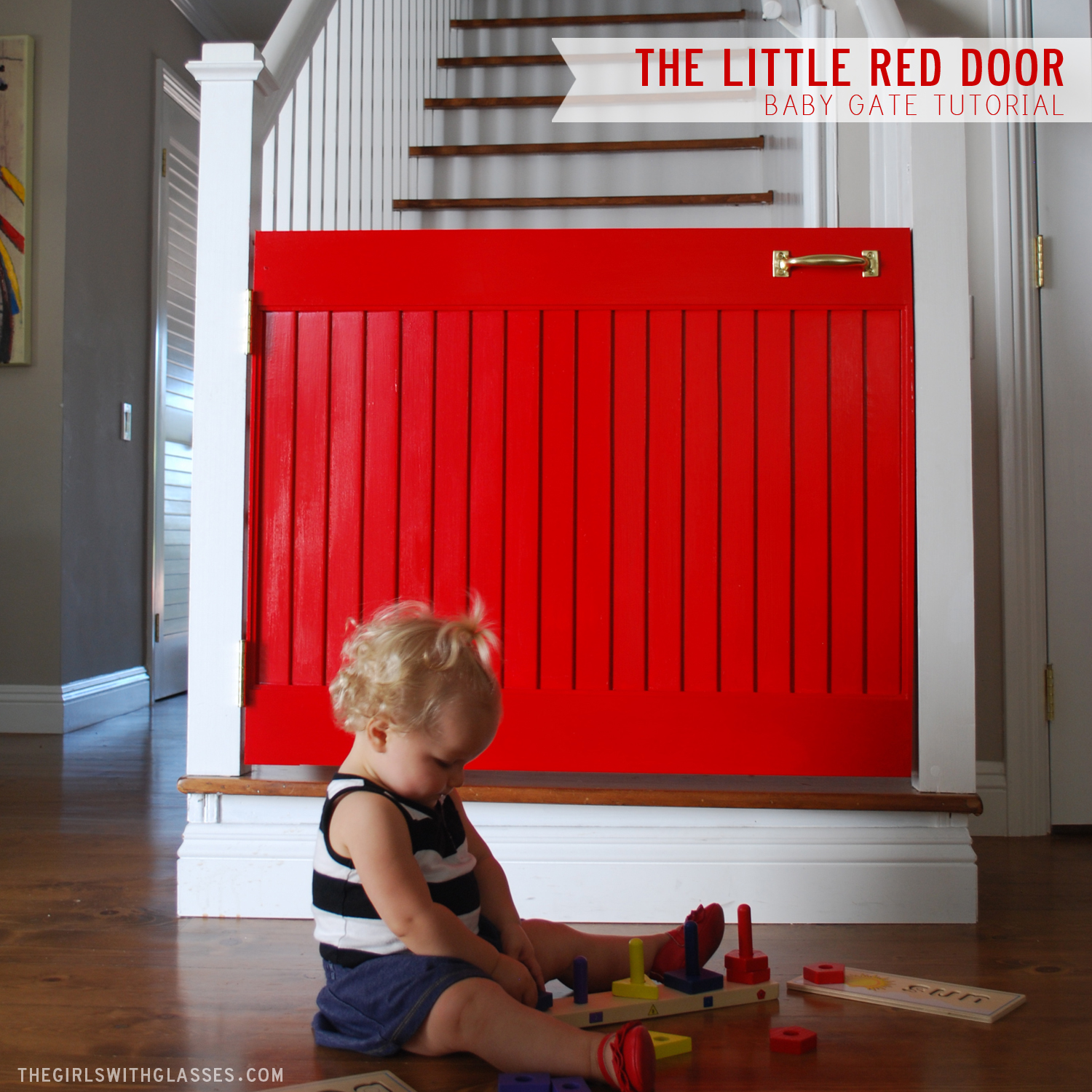 It seems that overnight our baby has turned into a full fledged toddler, or more accurately,  a wild  monkey child. As much as I love her mobility and new found zeal for climbing, it's freakin' me out and making it hard for me to take my eyes off her for more than two seconds. Last weekend she managed to bust over our hokey lookin' make-shift barrier made out of our bench seat, and some strategically placed boxes with a very heavy aerobed in a bag placed on top to keep her from moving it… welp, she outsmarted us and with sheer determination and with all that toddler inner-fire quickly made her way to the summit, I turned the corner to find her standing wobbly, shirtless and proud at the tippy top of my dangerous hard wood stairs. That's when we knew we needed a new solution. We had tried the auto-close gate which works perfectly at the top of our stairs, but because it is a pressure mount, doesn't seem to stay put at the bottom of our steps. So I went searching for ideas on pinterest, and came across this tutorial here. However we ended up making several adjustments in order for it to work with my stairs. It was the perfect project for a Saturday afternoon for Dave and I to do together. We just happened to have a spare door from the house that came in super handy in creating this very sweet red door.  When it comes to kid-proofing the house, it can be a real challenge to find a solution that is both functional and yet stylish. Honestly I couldn't love the outcome more, it actually adds to the space and the splash of hi-gloss apple red gives it so much character and pop! And most importantly it keeps the Loo safe!
I posted a picture on my  instagram, and several folks had requested a tutorial, so as promised, here you go!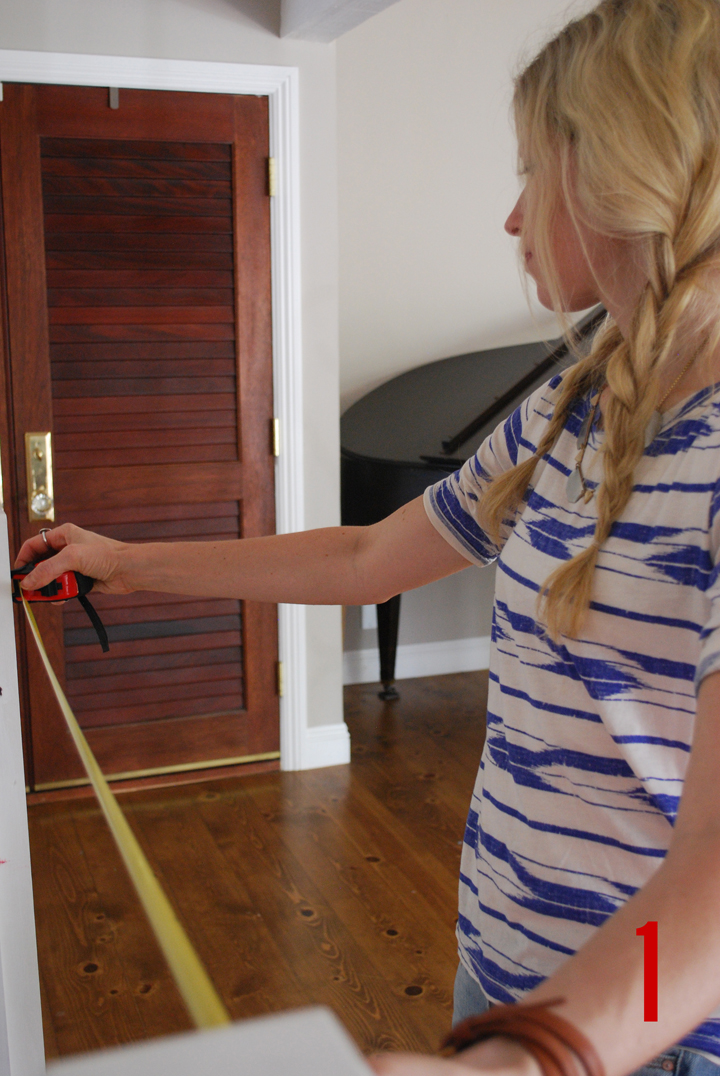 First, measure the width in between the wall/railing you are going to block off.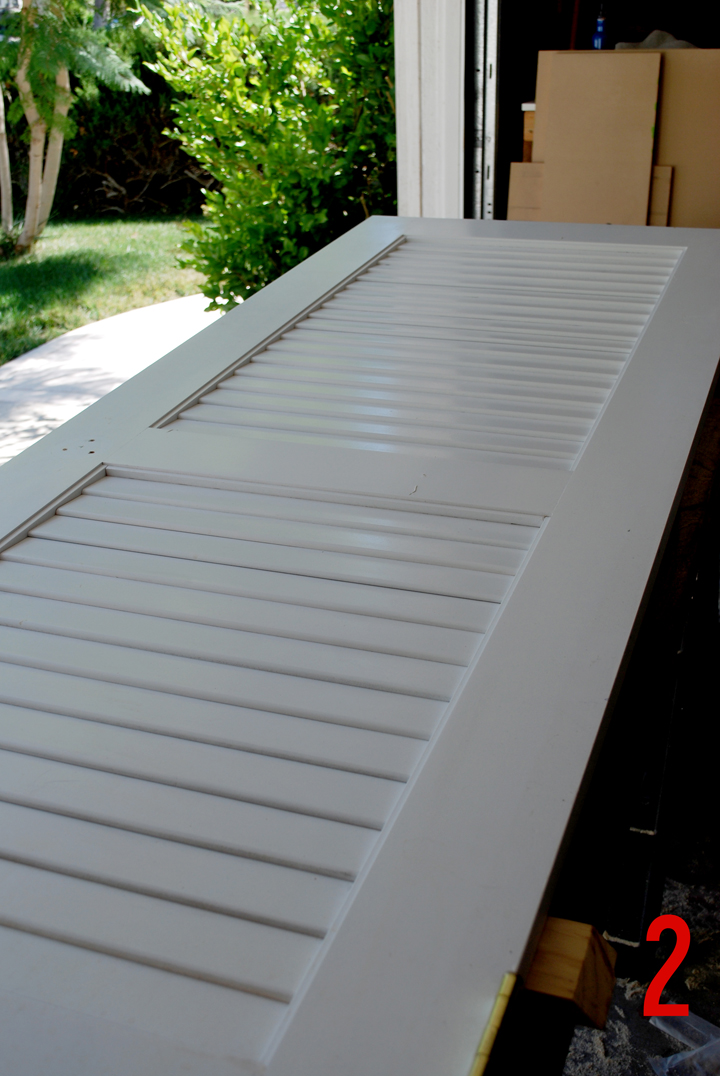 Then, you need a door. You can go and buy one, or just use a spare one you may have. Luckily, we had an old door in the garage already that would be perfect to cut.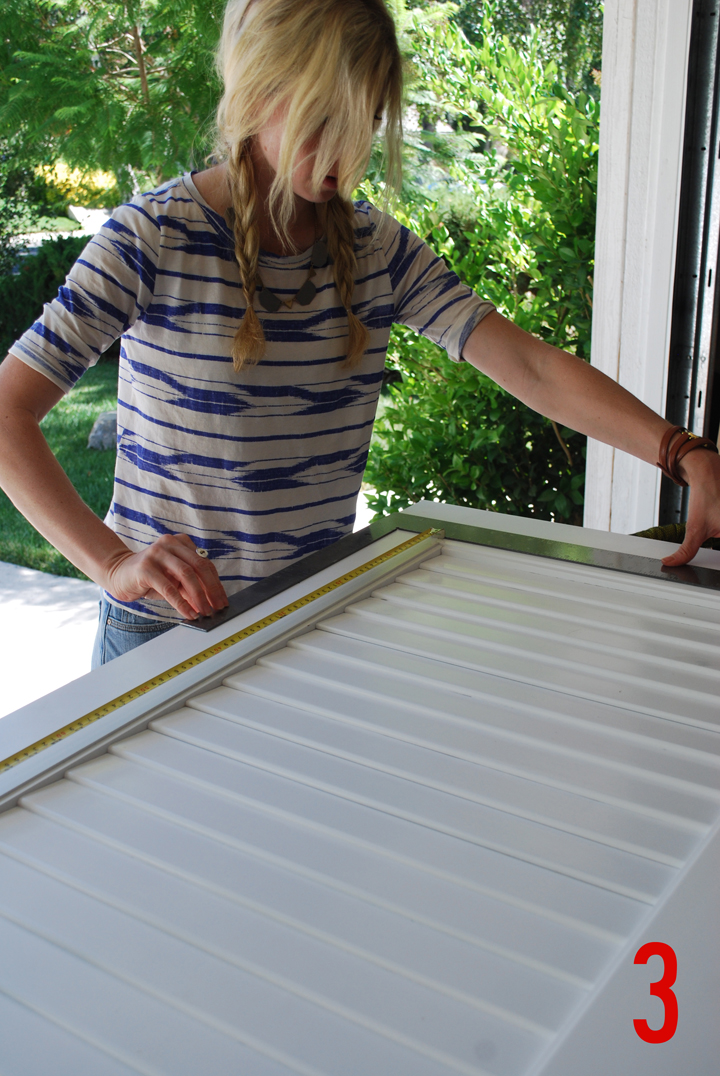 Place the door on a sturdy table, and mark your measurements before you saw. You will be cutting the door on its side.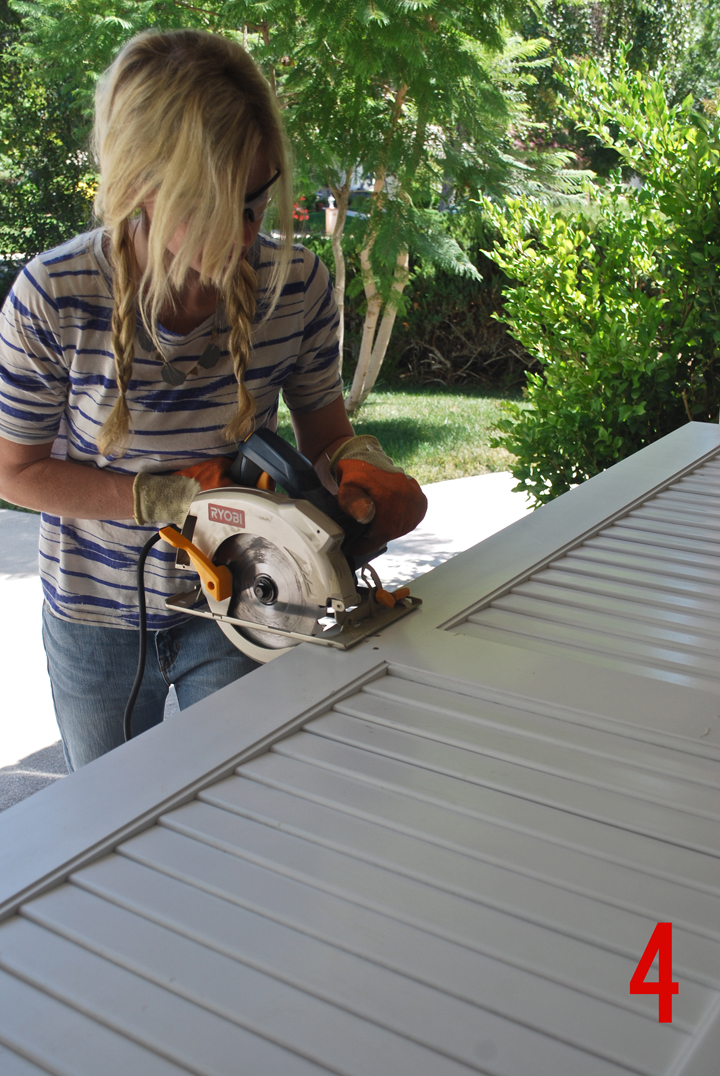 Using a saw, cut to your measurements. (P.S. saws are super freaky and dangerous, please use serious caution with the saw, wear protective glasses and watch them fingers)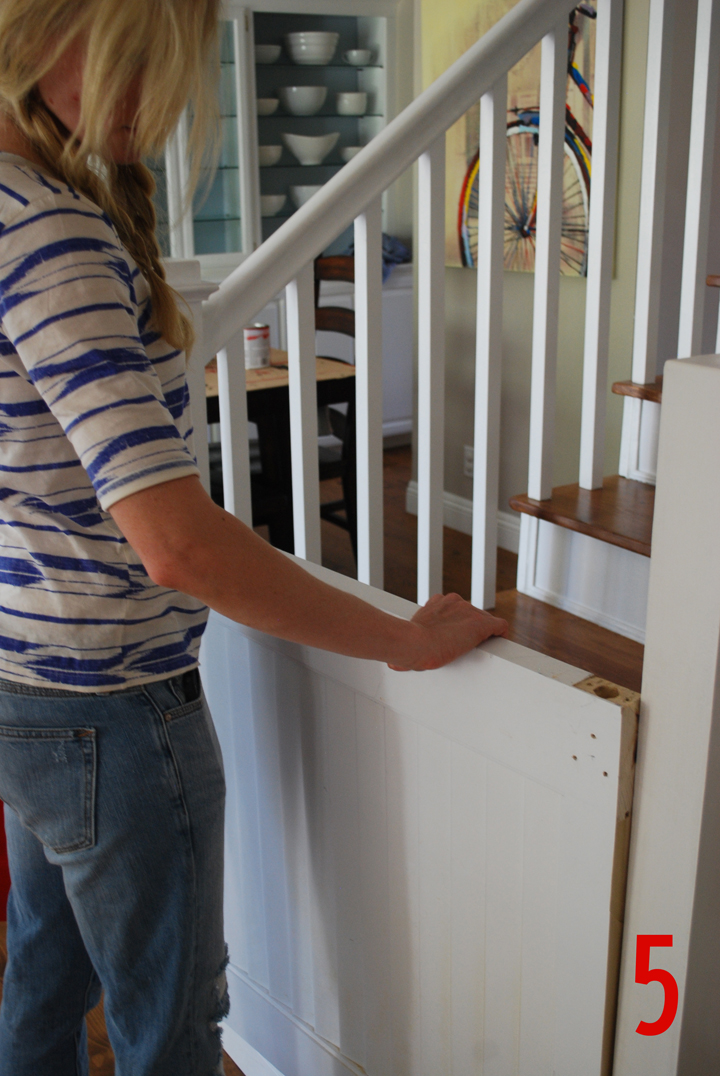 Turn the door onto it's side, See if it fits into the desired space. This is the trickiest part, we had to make tiny adjustments using both the skill saw and the table saw and even a hand sander to get it just right.  This is key!
Make sure it's not too tightly fit, since you want some leeway for hinges, and easy opening.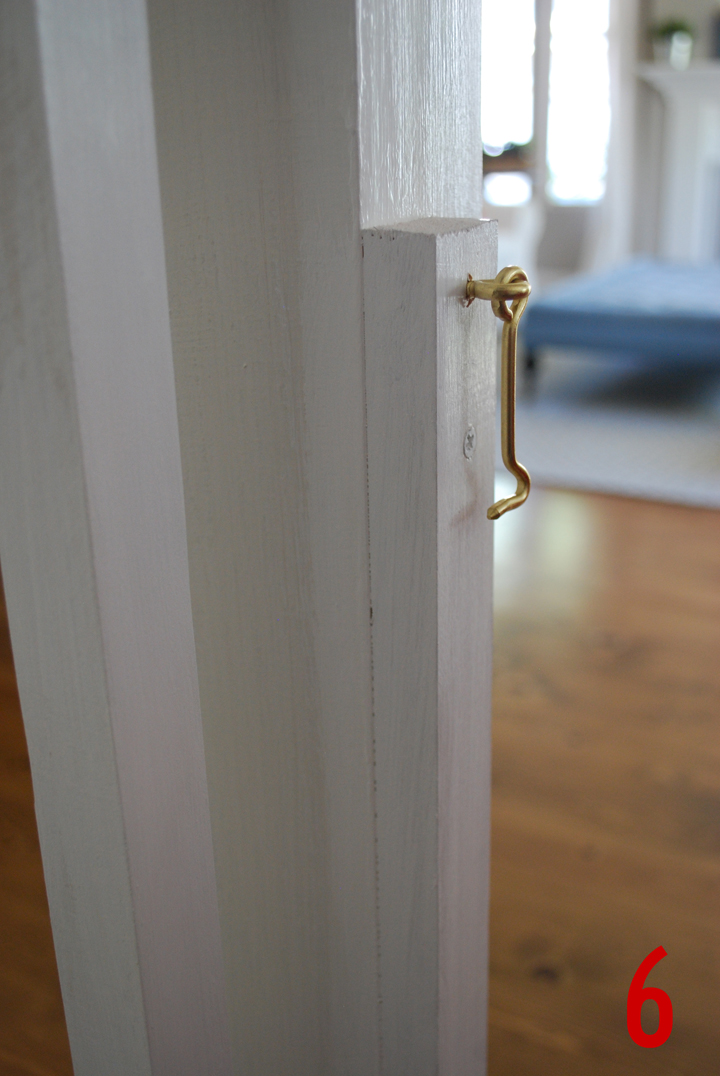 We also added a trim the exact height as the door, on the opening side of our railing to act as a stopper to close the gate, and painted it white to match our white railings.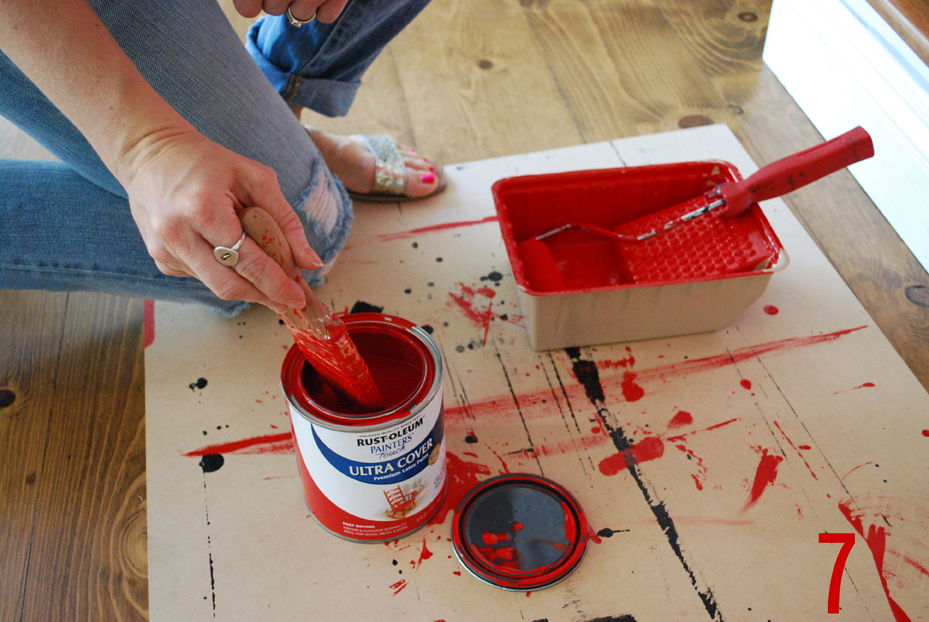 You can leave your door white, but we decided to paint the door red to add a pop of color. The exact color is Rust-oleum's Apple Red(glossy).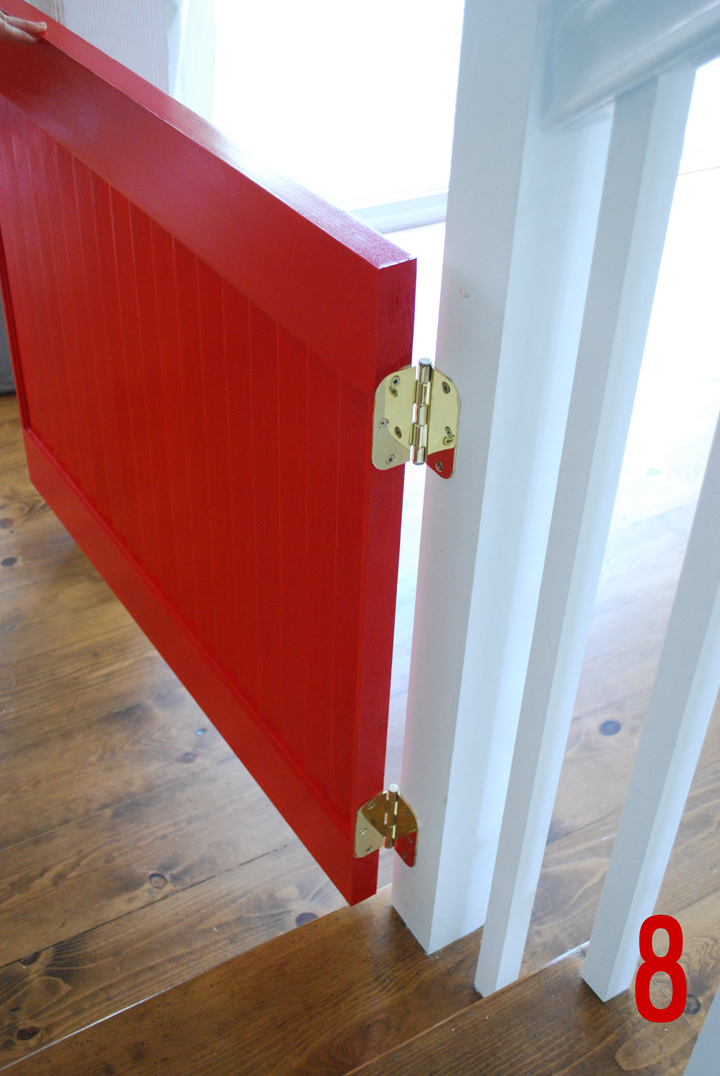 Once the door is dry, add hinges to the side of the gate (the other tutorial adds the hinges to the front of the door) however We added 2 hinges onto the door and railing. Make sure its sturdy enough to hold up.  This part will depend on your stairway.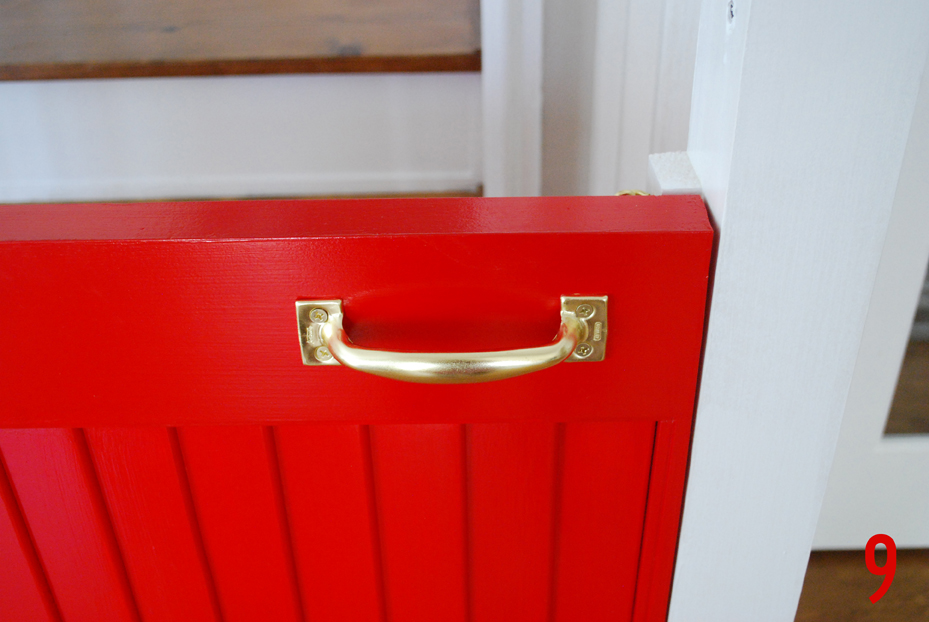 Add a handle or (dummy)door knob to pull the door out.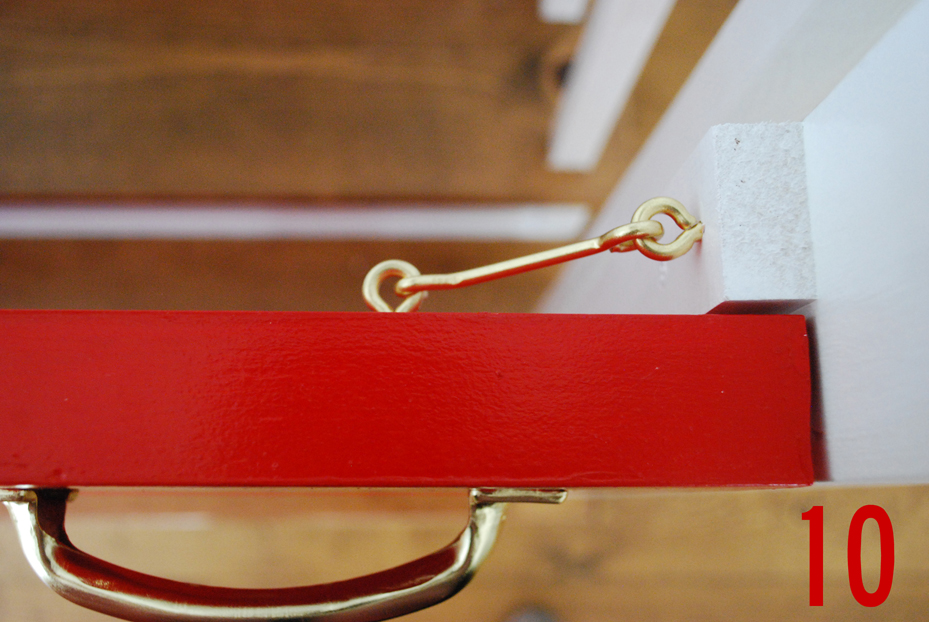 Finally, add a latch-set on the inside part of the door that way you can unlock, but isn't accessible to the littles . We attached the hook to the trim stopper piece and attached the loophole piece to the door. This particular latch worked best for our door, however the other tutorial used a another type of latch and attached it differently.  You can reference that tutorial if that works better for your set up!
That's it! You have yourself a charming little baby gate that is as good looking as it is safe!
: ) Brooke