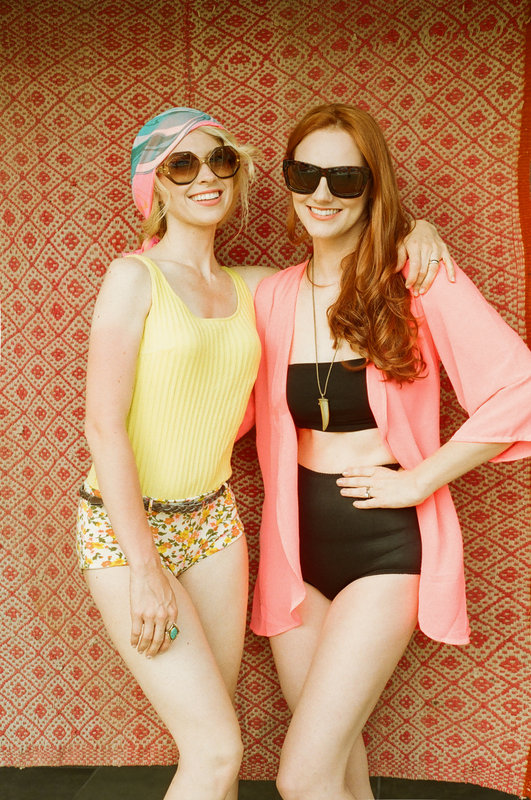 Photo by Christianne Taylor
Does anyone else struggle with the balance between loving your body the way it is, but also not letting that be an excuse to not eat healthy and work your butt off (pun intended) in the gym? I grew up modeling, thus I spent lots of time around women that had amazing bodies, yet engulfed in a culture that broke down those bodies as specific measurements and features into a monetized system of worth. You would think it would be hard, always having to worry about your physique, but overall it made me think of my body very matter-of-fact. I knew my strengths, I knew my flaws, they were what they were.
After two kids and gaining 65 pounds each pregnancy, my body has been through a lot. I have a new respect for this bod of mine, not about my looks, but an overwhelming sense of gratitude about my health, and the ability to have two healthy boys.  That has helped me be patient through a few months of curvier curves and softer sides, but I don't want to be too comfortable.
As I'm getting back to normal, slowly but surely, friends and family like to tell me how great I look, or how skinny I look, maybe even skinnier than before I was pregnant. I want to call their B.S., mainly because they were the ones that at 8 months were telling me "You can barely tell you're pregnant!" or "You are just glowing."  I look at pictures during that time, and although I'm sure their hearts were in the right place , "Lies, lies!" is all I can think.
Weight is such a politically correct place for women and I'm not encouraging us to start pointing out each other's faults. No one wants to hear specifics of where they are lacking or not lacking enough, we all want to be loved for who we are,  but when someone admits they have 10 pounds to loose, or two dress sizes to get to where they want to be, maybe a good response would be encouragement and support.
No matter what my friends do or say, it's up to ME to live a life of good food choices and healthy activity, not just for my looks, but for my family and my long term health. I don't want to be happy enough, but not quite where I want to be. I want to know I am doing everything I can, and encourage my friends to also take their bodies seriously.
It's kind of ironic that Brooke and I are putting this picture out of us in swimwear. It was hard for us to even take this shot, but we all gotta get our swimsuits on and take the plunge. It's hard to not look at yourself and only see the flaws, but when it comes down to it, there are a lot of things you can do to help your situation, and at the end of the day, there are some things you can't. So here's what we are going to do: eat healthy, mostly, exercise whenever we can and then leave those negative thoughts in the dust as we take on this world as loving moms, giving sisters, happy aunts, and/or inspiring best friends.