I hope you're having a great day! Today we're sharing with you three of our favorite soups. You can make these soups up for dinner, or for your kiddos lunch. If you're looking for more lunch ideas, check out our friend Beth, who is sharing 3 great salad ideas for your lunch boxes.
First soup is my personal favorite, Chicken Lemon Vegetable! I literally made it twice this week. It's healthy, it's filling, and I just can't get over the taste!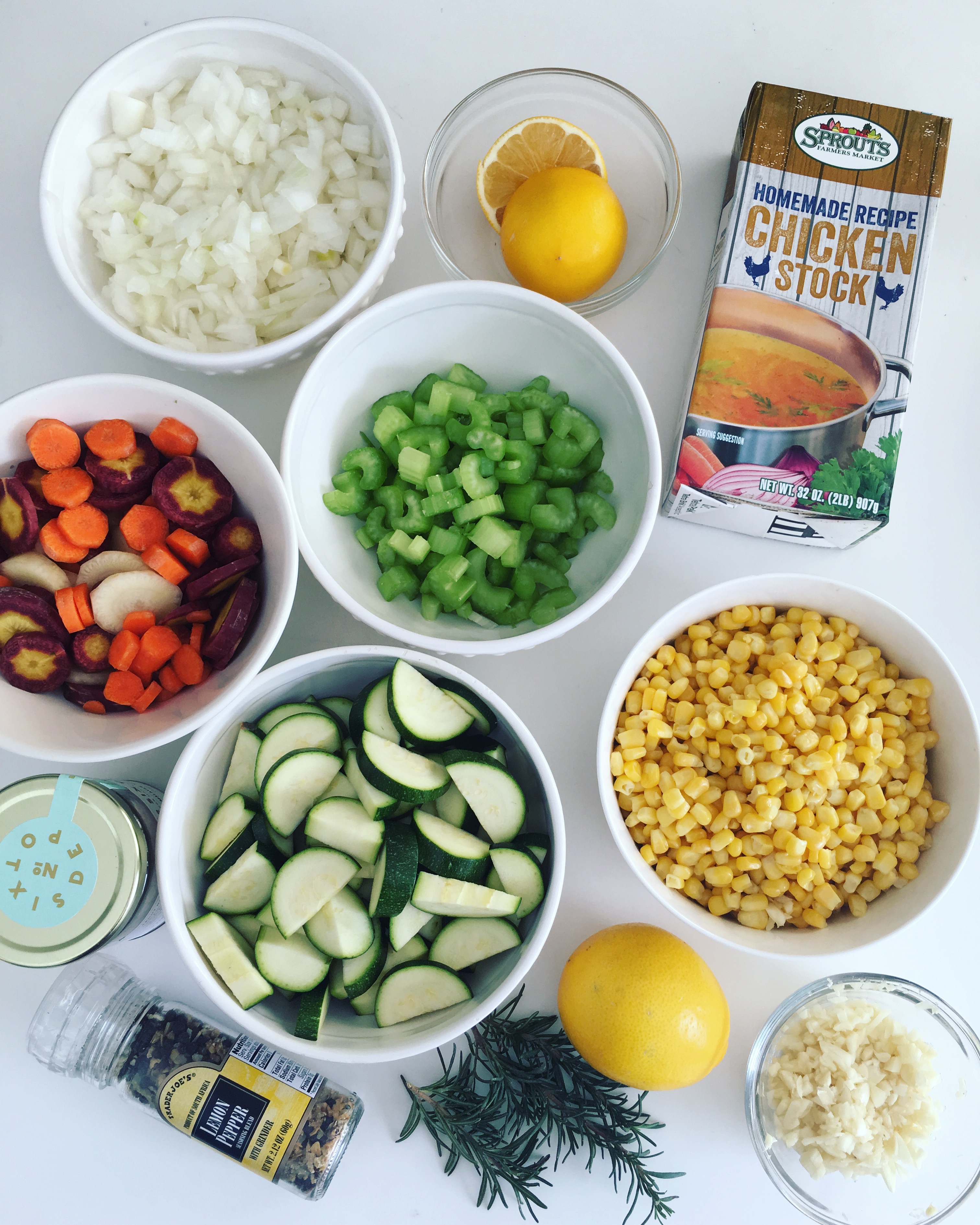 Here's what you need:
chicken broth
Shredded rotisserie chicken
3 tablespoon olive oil
garlic, minced
1 onion
1 large lemon, zested and juiced
celery
carrots
zucchini
rosemary
sea salt and pepper
Directions: Place the olive oil in a large sauce pot over medium-low heat. Once the oil is hot, saute the diced onion and minced garlic for 3-4 minutes to soften.
Add the chicken stock, rosemary, carrots, zucchini, and celery. Raise the heat to high, cover, and bring to a boil. Once boiling, reduce the heat to medium, then simmer for 5 minutes.
Stir in the lemon zest and juice of lemon, 1 teaspoon salt, and black pepper to taste. Simmer another 5 minutes.
Take your shredded chicken and add in the pot. Stir in shredded basil. Taste and salt and pepper as needed. Serve warm.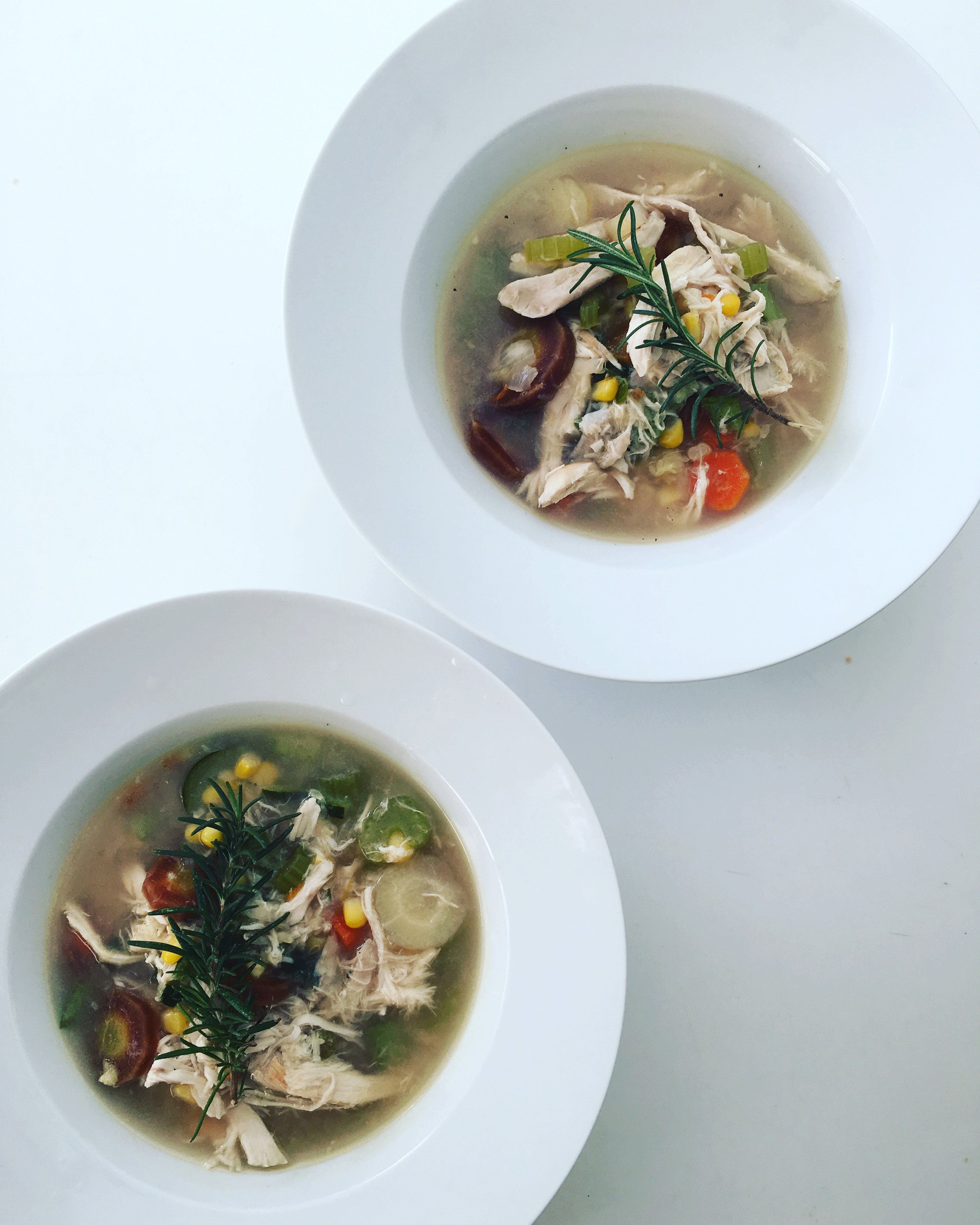 Chicken Chili
I can of navy, black, white, and garbanzo beans
1 Onion (diced)
1 Garlic cloves
28 oz of tomatoes (diced)
Shredded rotisserie Chicken
Chicken stock
I bag of frozen corn
Cumin
Sea Salt and Pepper to taste
Olive oil
sharp cheddar
Directions
Combine all soup ingredients in pot. Cook on medium for about 20 minutes.
Once chili is cooking, take your shredded chicken and add to the slow cooker and cook for another 20 minutes.
Serve and top with shredded sharp cheese.
___________________________________
Chicken Tortilla Soup (Brooke's Favorite)
1 can of corn w/water
Can of Diced tomatoes
Can of tomato sauce
1 jar of salsa/pace
Can of green chilis
Cup of chicken broth
Green onion (for garnish)
Tortillas (cut into strips)
Canola oil (for frying)
Rotisserie chicken (shredded)
Directions
Combine corn, tomato sauce, stewed tomatoes, salsa, shredded chicken, and chicken broth all in a pot.
Heat on medium heat for 20 minutes.
While soup is on the stove, Pour vegetable oil into medium skillet. Heat oil over medium heat and add tortilla strips to skillet and cook until crisp and light golden, about 45 seconds. Using tongs, transfer tortilla strips to paper towels to drain.
Once soup has cooked for 20 minutes, put into a bowl and garnish with tortilla strips and green onion slices.