For our next Honorary Girl With Glasses, we introduce Jenna Carlson of Lucky Little Mustardseed!
"You need glasses."
Most people would not be happy about this prognosis.
I, however, caught myself smiling.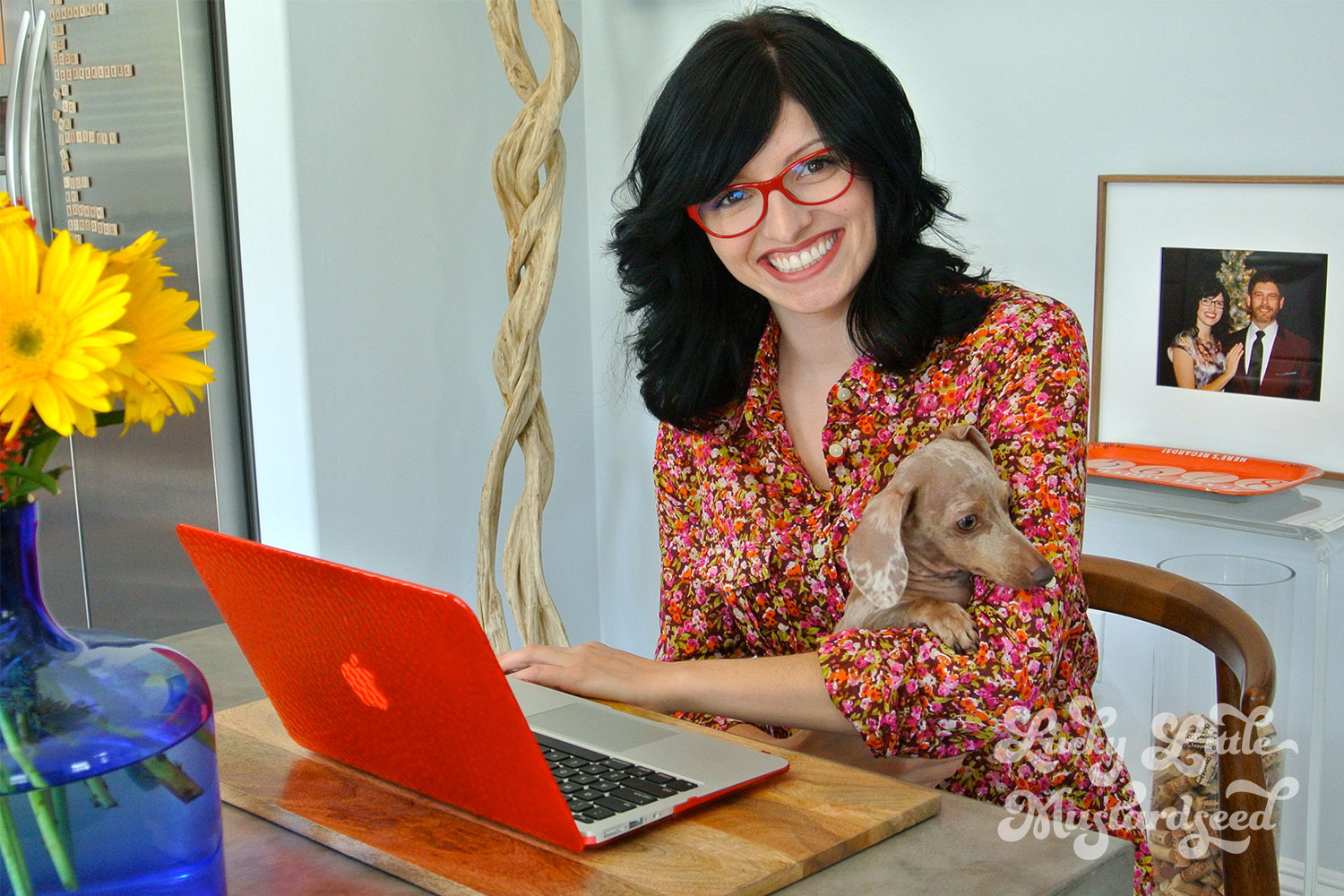 That was me – a year or so ago. I was going through a year of mucho change and found the additional alteration to my life, well, humorous. [Of course, I do!] I mean don't get me wrong. I've always been one of those people who randomly walk into an eyeglass store to aimlessly try on different pairs, you know, for fun . . . but to enter the "party of one" world again with four eyes seemed like some sort of joke. Instead of pouting, though, I accepted my no longer 20/20 vision and went shopping. And, wow, was I a kid in a candy store – so many frames, not enough eyes. By the time I narrowed it down to the "one" pair, I was hooked. I can't describe the feeling the first time I put those babies on my face. It was the strangest thing. I looked into the mirror and felt, umm, complete?! I've always had a confident demeanor, but for the first time, my inner nerd matched my outer dork. My reflection was finally the true "Jenna" [at least that's how it felt]. Not only was my vision clearer [did you know headlights shouldn't look like giant bursts of light?], but the real me was transparent and just shined through. The even crazier part is I fell head over heels in love with another "glass act" right around the same time.
'If you don't like something, change it. If you can't change it, change your attitude.'– Maya Angelou
I'm now the proud owner of four pairs of spectacles. It's very difficult for me to say which ones are my favorite, but the pair I seem to wear the most, and very much adore, are my Chanel glossy reds. They are technically supposed to be sunglasses, but I don't take kindly to "no" as an answer 😉
What else can I say? My love affair with lenses is true and here to stay.