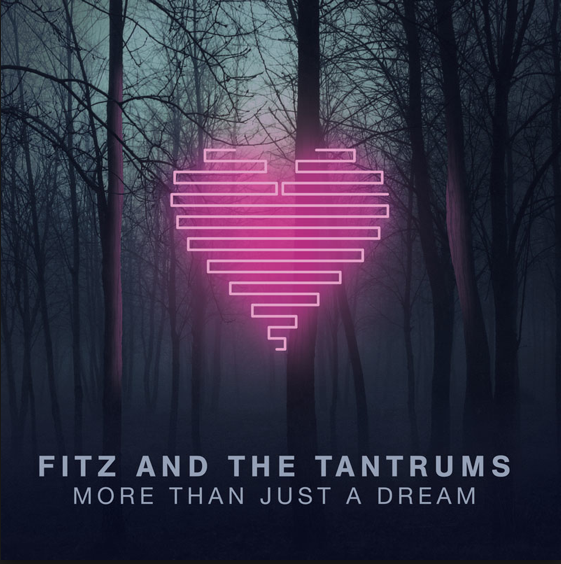 Roughly three (maybe four) years ago I was sitting in the studio with this brilliant producer song-writer friend of mine Chris Seefried, we were writing a tune, and he had mentioned that he was producing this super cool modern throw-backy record. He pulled up a mix he was working on "Money Grabber"… within .2 seconds I was hooked. From that moment on I became Fitz and the Tantrums biggest fan. I told, tweeted, and shouted from the rooftops about this band. Their first record "Pickin' up the pieces" was a smash, critically acclaimed and a huge indie success… So soulful, fresh and yet so classic. My favorite track "tighter" ranks right up there with Elton John or Hall & Oats standards, seriously it's that good, and I probably listened to it, minimum… 547 times. If I had listened to it on vinyl, the grooves would be gonzo. Well, Fitz himself noticed how much I was loving on this record and invited Dave and I out to a show at the Roxy…
Seeing is believing friends. It is rare to fall in love with an album, with expectations so high, knowing every little harmony, beat and nuance, and then see the show and elevate that love to another level. Few artists truly pull this off. My appreciation for the music of FATT grew infinitely. Noelle, a straight up soulful singin dancing diva tambourine playin'  prodigy, exploded from stage left and didn't quit till the curtain closed. I have never witnessed someone give so much on stage, the energy level beamed through the roof of the roxy and landed somewhere up in outer space. The band was tight, Fitz sounds just like he does on the record, and the chemistry between he and Noelle was fully electric. After being on the road for 120 something shows in a row, they had not lost the spark, it was a full blown flame. The songs, the show, the audience… on fire!
Fitz has since become a friend, and we even called upon his rad distinctive voice to sing with us on our Jack and White undercover album, on our version of "Telephone Line"… he was so kind to say yes and definitely made the song. Honestly, there isn't a nicer, cooler, more hard working guy. He has been pounding the pavement for many moons , and finally found a break with this incredible band.
They put out a new record just a few months ago, "More than just a Dream" and guys and gals, it is just as good as the first! So hard to follow up greatness, but they managed to do so, in a totally new way. It is not a copy of the first, as a matter of fact the tones are more modern, but the signature sounds of his voice and her voice are just soaring on this record. Huge huge props to them. If you haven't already, give this group a listen, it will blow up your speakers all summer long.
6 am is my JAM! Prepare to be OBSESSED… listen to it right here, oh and TURN IT UP!
: ) Brooke