Are you ready for the most wonderful time of the year!? I don't know about you, but it is certainly creepin' up on me and as much as I love this season (as you can see I already have a tree up in my kitchen!), I find myself getting a lil' stressed out over tackling the crowds, figuring out what to get for everyone on my list, as well as getting out that old fashion Christmas Card in the mail. Truth be told I haven't gotten a card out for the last three years cause I just waited till the last minute and I was dropping all them Christmas balls, and cards were one of them! Well not this year! I am getting a jump on my shopping as well as my Holiday Greetings and plan on dropping them off in that blue box the day after Thanksgiving!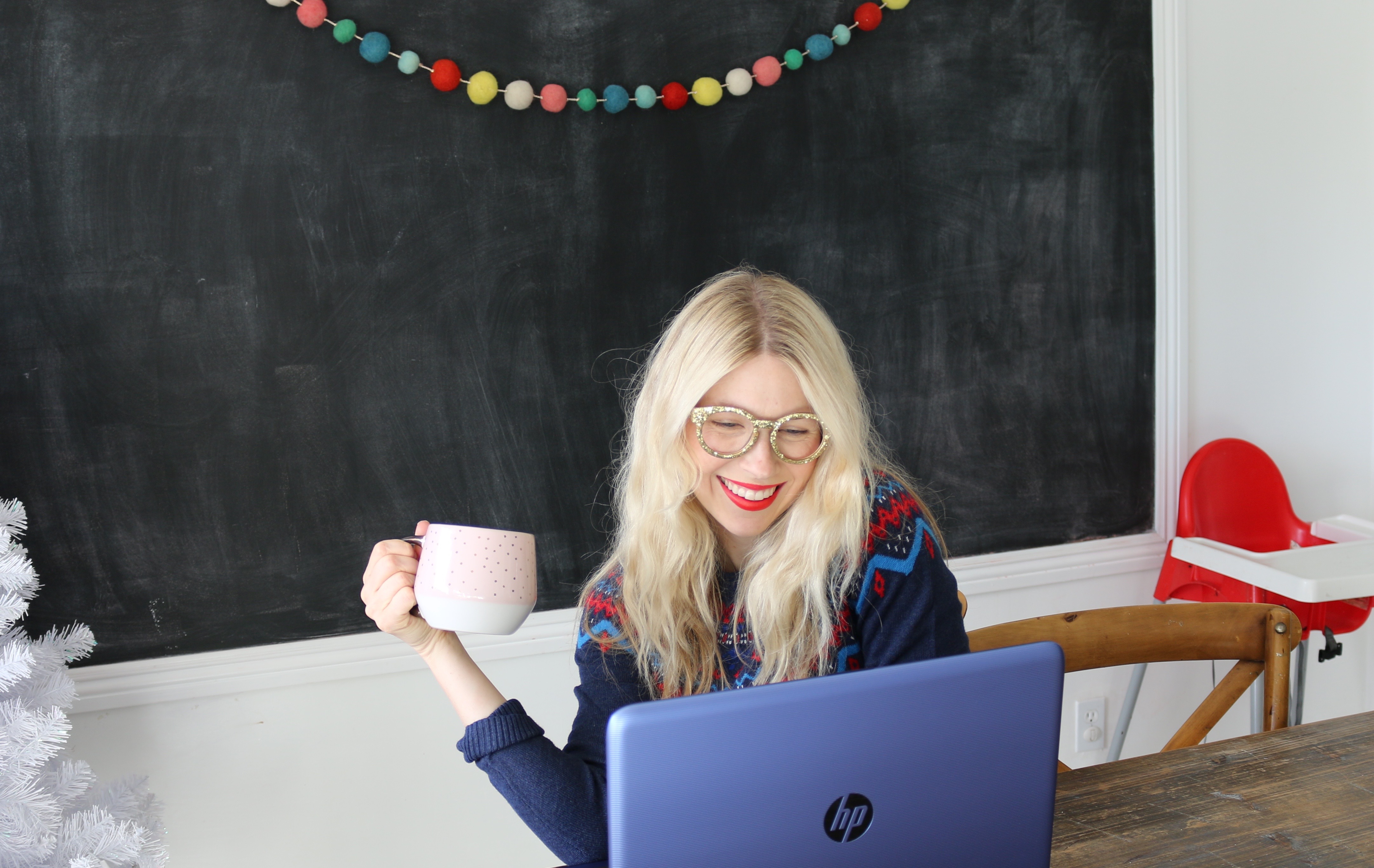 And speaking of something blue, the only thing that will be blue about this Christmas, is the hue of my new computer! Yay for color. I love it so much that I got matchy matchy with it for this photo, cause I am nerdy and shameless like that! But thats what's great about the new HP laptops, is that you have options! There's more than just safe 'ol silver to choose from! Cause your tech should match your personal style, just sayin'! We got to have some fun people!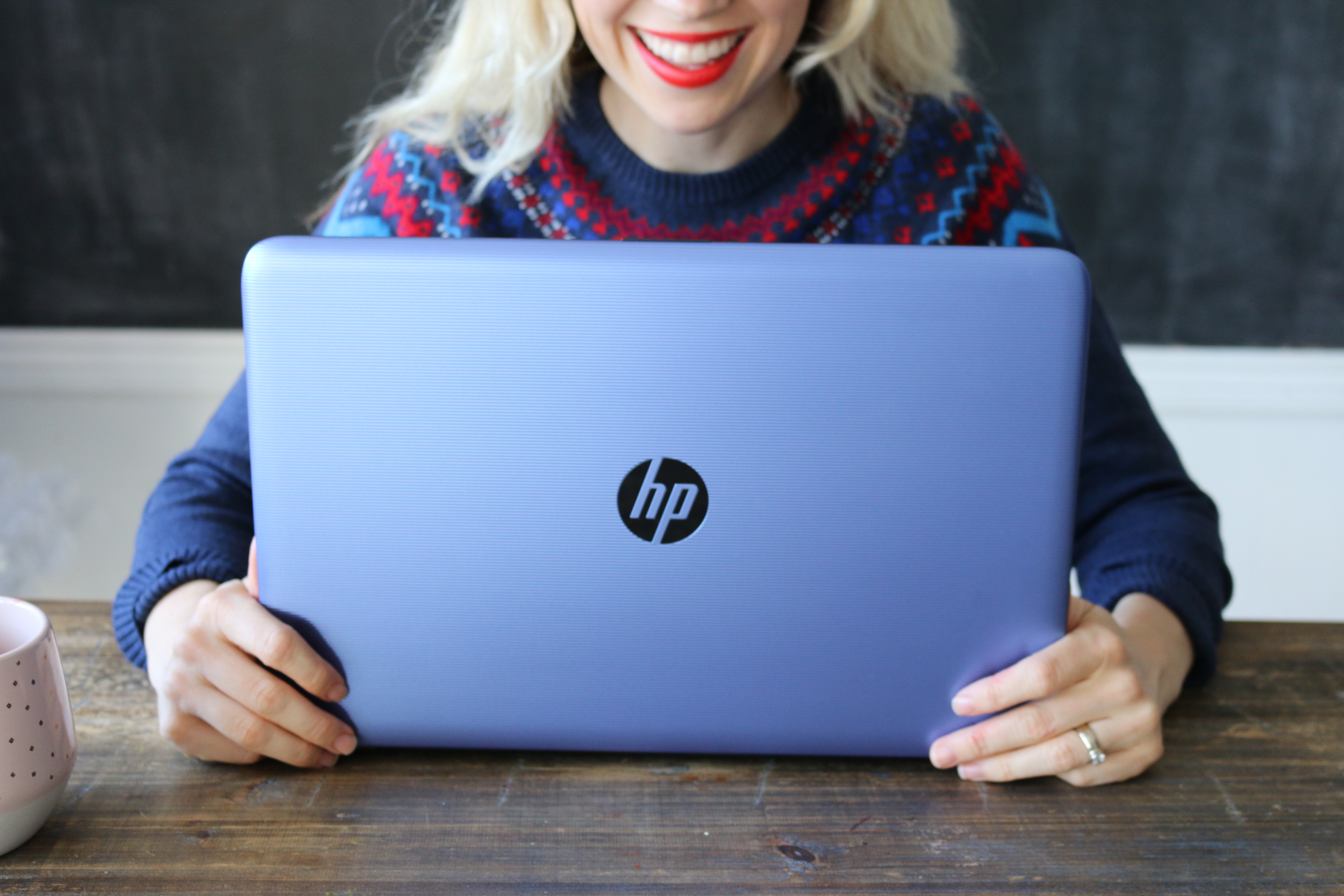 So if you, (or someone on your list) is in need of a stylish, colorful (blue, teal, red, purple, white), powerful (Intel quad-core processor, 8 GB ram, 1TB storage and all that tech talk), fancy HD touchscreen 15 inch laptop computer, now is the time! Cause, Black Friday sounds like a good idea until you have to stand outside in the bitter cold, shivering and waiting with the weirdos in long lines into the wee hours of the morning just for someone to elbow you in the eyeball trying to get their paws on the deal of the year, and then the deals are all gone and all you're left with is a black eye and no deal. So skip the lines, skip the cold, skip the wait, skip the black eye and get this mega deal on a lap top at nearly half the price ($399!), in your jammies, from the comfort of your home. Heck you don't even have to leave your bed for goodness sakes! And you don't even have to wait… Pre-order this blue beauty (or whatever color you fancy) NOW on HSN.com, oh and get some free shipping and Flex pay while you're at it!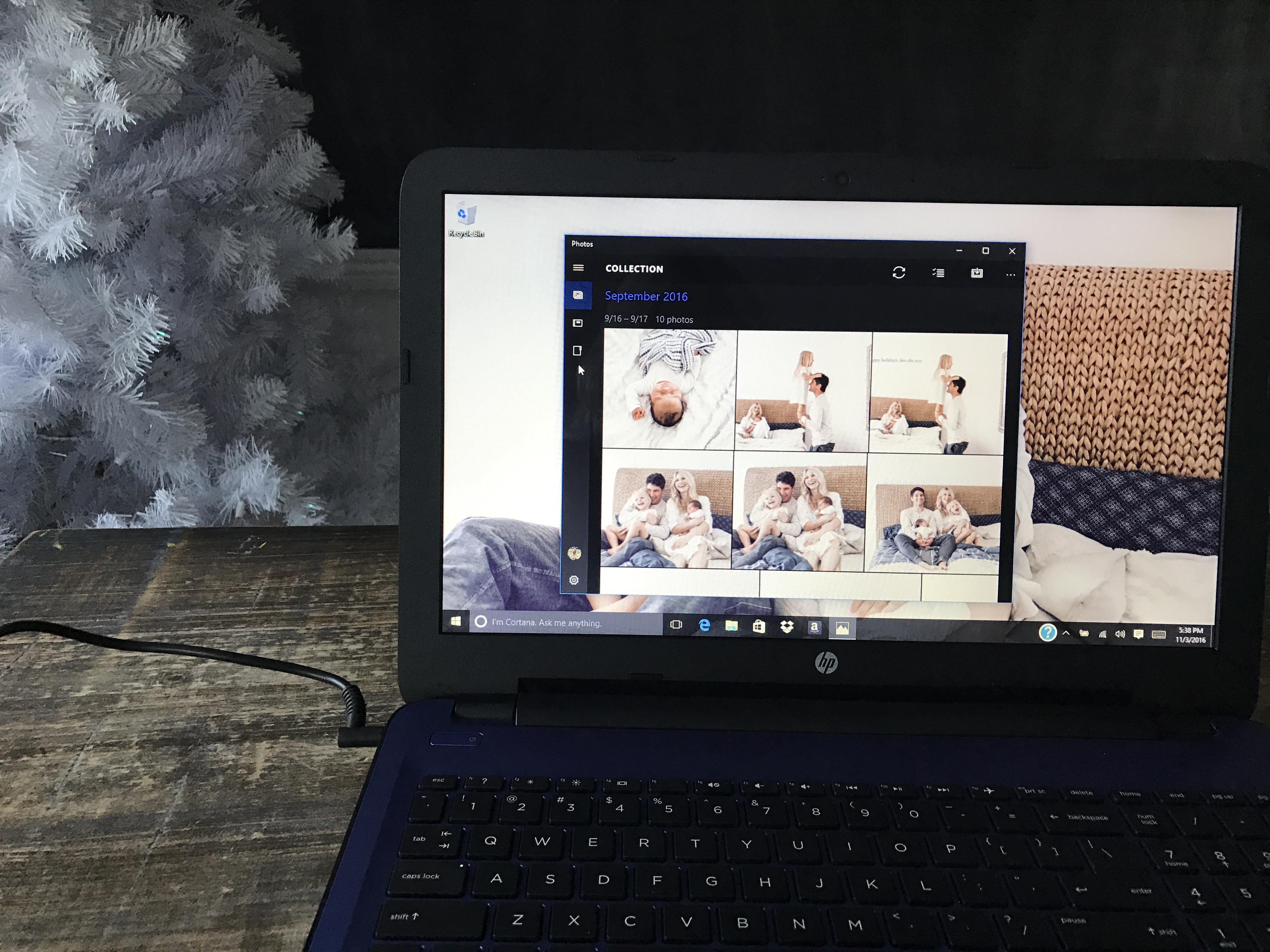 So back to that Christmas card, the first thing I needed was a good family photo. I just got my pictures back from my photographer, (Jaci Marie) and wonder how she managed to get anything good amidst the mayhem of a sweet screaming newborn and uncooperative 4 year old and two sleep deprived parents! And while no one is looking at the camera at the same time, she has magically captured us in this foggy love-filled exhausted state of joy we are so glad to be living. These are the days, and they are quick.
So I download my hi-res photos into my photo collection and narrowed it down to my top 3 (or 5ish). Then I did some light editing to each photo in the program, just some simple brightening, played around with some filters and maybe touching up a zit or two on the ol forehead! Yeah you can do that in your photo library!
Then I hopped on the web and perused the Pinterest boards to get some inspiration, and then found a few great sites that had some designs that caught my eye! I used to design all my own cards back in the day, cutting, gluing, mounting, stamping, glittering, hand lettering etc… but ain't nobody got time for that these days! Like I said, tis the season to simplify! With a solid wifi connection, I had uploaded my photos into the clean minimal design of choice found on Minted.com and ordered them in a matter of minutes. I will be getting them on my doorstep in just a few days! Bodda bing bodda boom, ho ho ho Merry Christmas and all that jazz!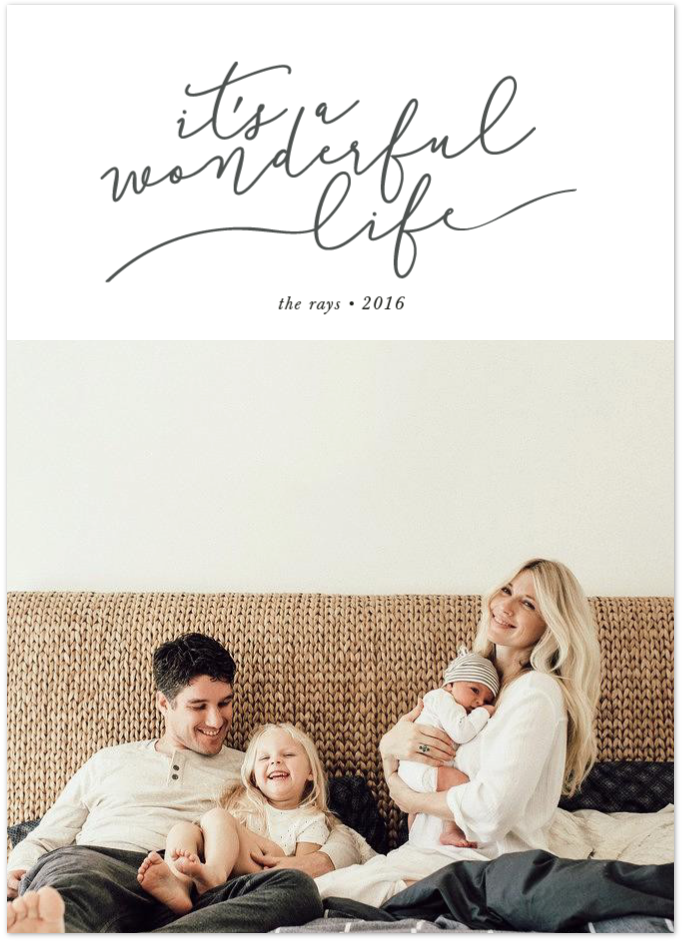 With a bouncing new baby on my hip, and a strong willed four year old clinging to my leg, I am finally just too darn tired to be the overachiever I once was. This is the holiday I am going to try to celebrate smarter not harder, gonna try to keep my priorities straight, have fun and let go of trying to do it all. And that probably includes doing my shopping in my jammies on my blue laptop!
If ya couldn't tell , this post is sponsored by the good folks at HP and HSN, two companies we love partnering and collaborating with. We hope you take advantage of a truly good deal! Thanks for reading and Happy Holidays to you!