Hey friends! We are excited to bring you another super fun style post with our good pals at Old Navy! March was all about the Neo-Nautical and we were all a'board, but April has us LITERALLY jumping for joy, cause we're very much fans of the florals! So we wanna show you some of our favorite looks from Old Navy that we put together for ourselves and our little ones. And what better place is there to show them to you then in a FIELD OF FLOWERS?! The answer is there is no better place. This IS the place. To observe the Poppy Reserve (google it) with your own two eyeballs is one of those bucket list items, so if you get a chance to get there during the "super bloom" we highly recommend it, but until then, let us delight you with these photos of us freezing our bottoms off in the California wind while wearing some very cute outfits amongst the land of poppies! Let the scrolling begin! woot woot!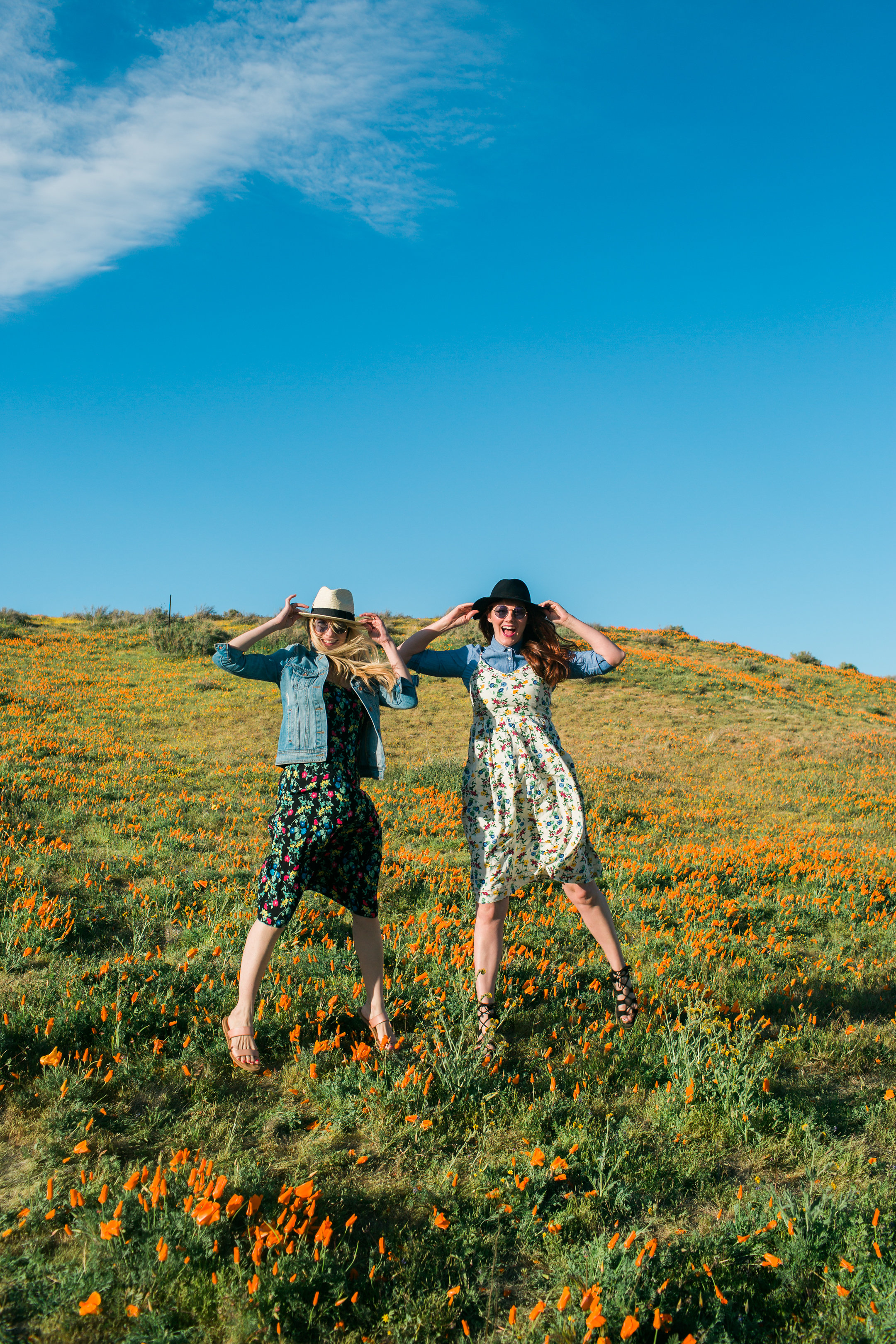 I wasn't joking when I said we were jumping for joy! These dresses are just too good. The print, too good. And of course, Summer and I would NEVER pass up an opportunity to be matchy matchy and twin it up! This is the stuff we live for. Of course we are individuals so we each put our own little spin on it. I've got the black variety with the BEST DENIM JACKET I HAVE EVER SEEN (upper case used to add em-phasis, because I feel very passionate about this and I REALLY MEAN ITS THE BEST DENIM JACKET I'VE EVER SEEN. Perfect wash, perfect distressing, perfect fit. And NOTHING is perfect… except this jean jacket, ok thats all) over the dress. While Summer, is sporting the white version with a few different details, as well as a chambray button-down under the dress. A trend we are happy is now a trend, because, well we've been doing this shirt-under-the-dress thing for a long time. Also if we should ever change our name, it will be to "The Girls with Hats", because, Hi, we are ALWAYS wearing hats, because HELLO, we have kids and so, HEY, we just don't really do our hair anymore. Thank you hats.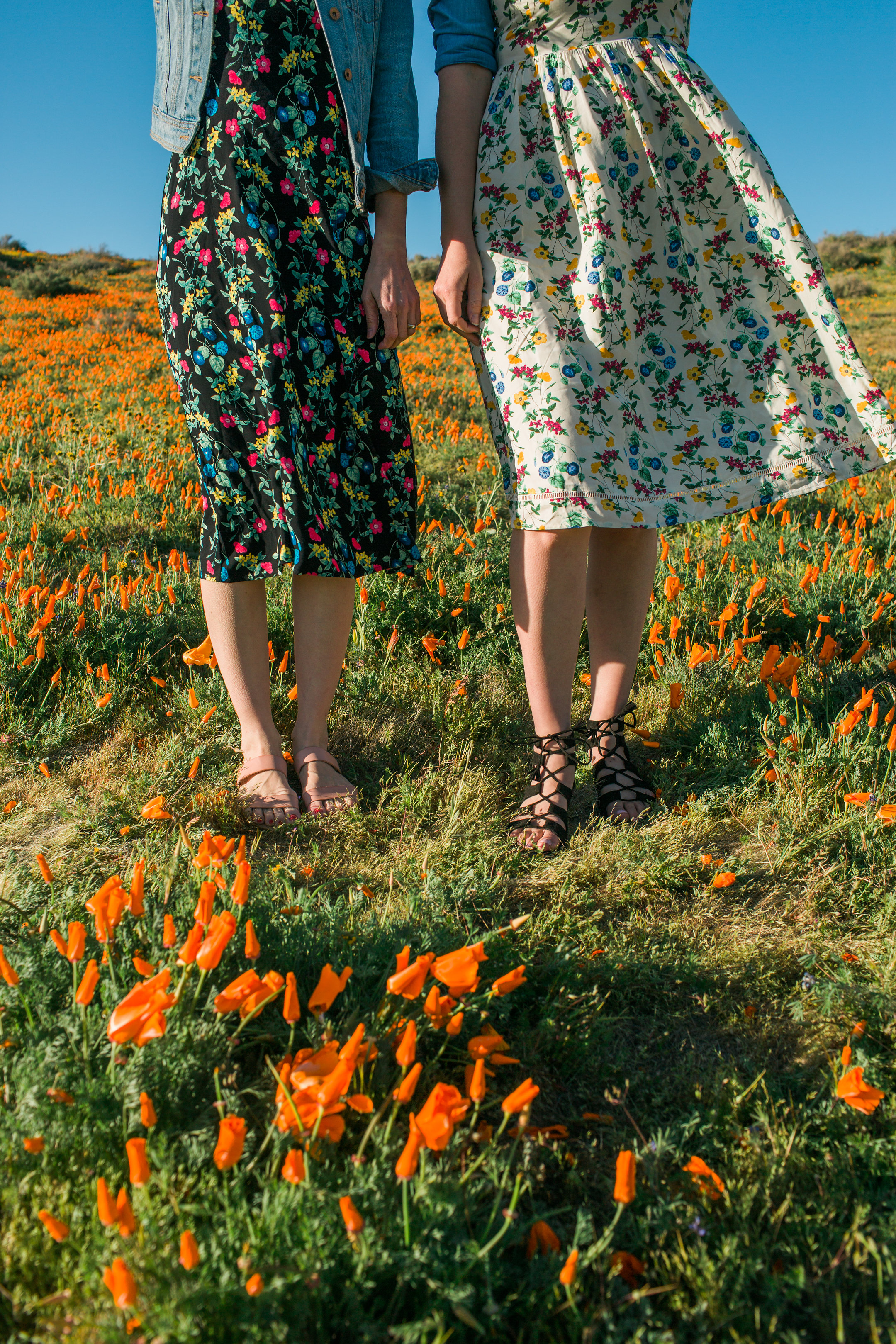 And a shot like this is always necessary. Get into those details folks, get into them. Did I mention the print was good? Yes, it is good. Look at it! So good. And our sandals, we are loving.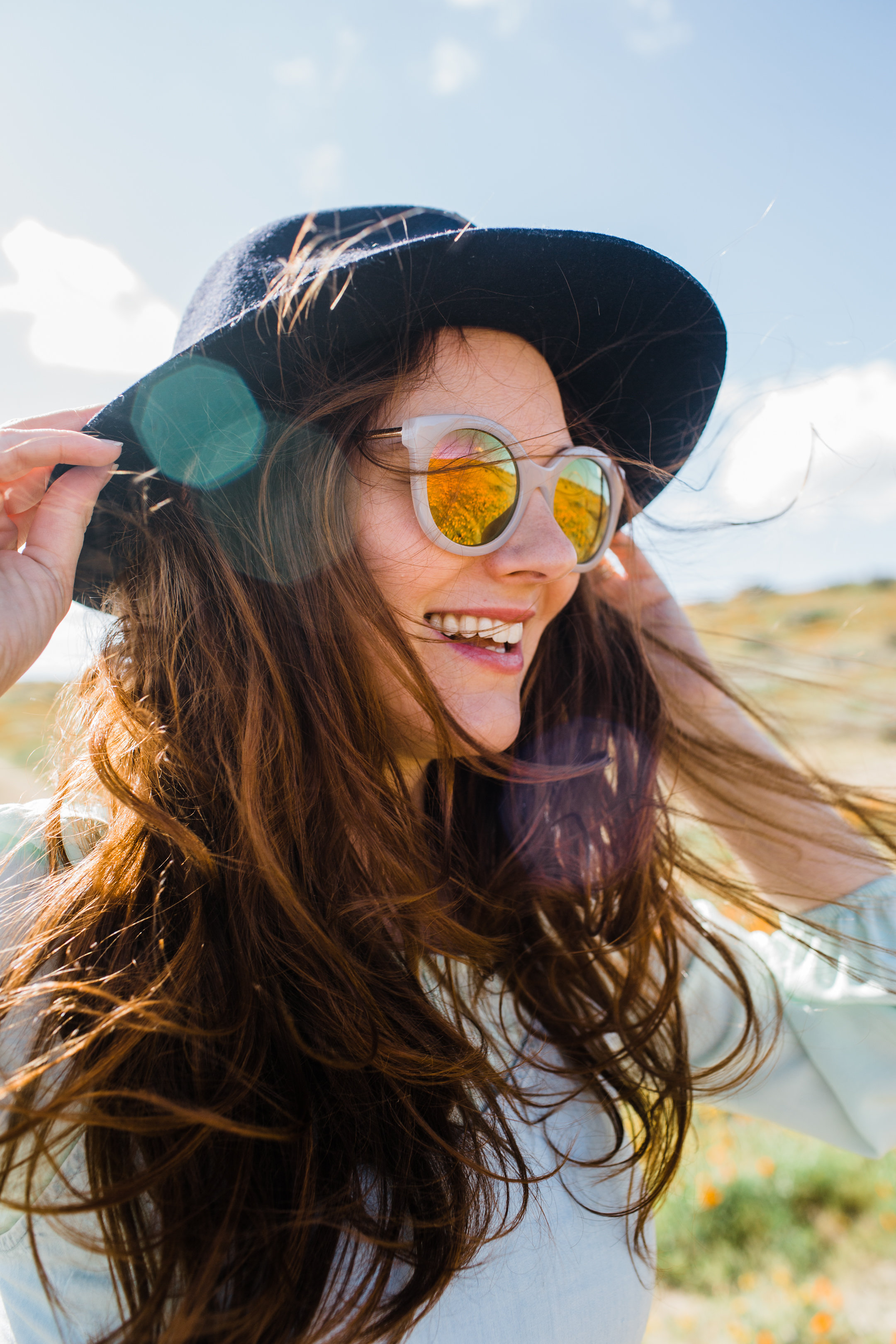 Here is a close up of Summer looking pretty, cause basically that is all she knows how to look. Don't hate her, cause she's also super nice, hard working, talented and genuine. Just be inspired friends, just be inspired. Here her gorgeous windblown auburn locks are under a solid black hat. Yes you can keep wearing your black hat all spring. Not that you even need our permission, but just sayin. Also, please make sure to take a moment to see those flowers in the reflection of her cute sunnies. How does it make you feel? It makes me feel awesome. That feeling, that's what we call ART. Bam.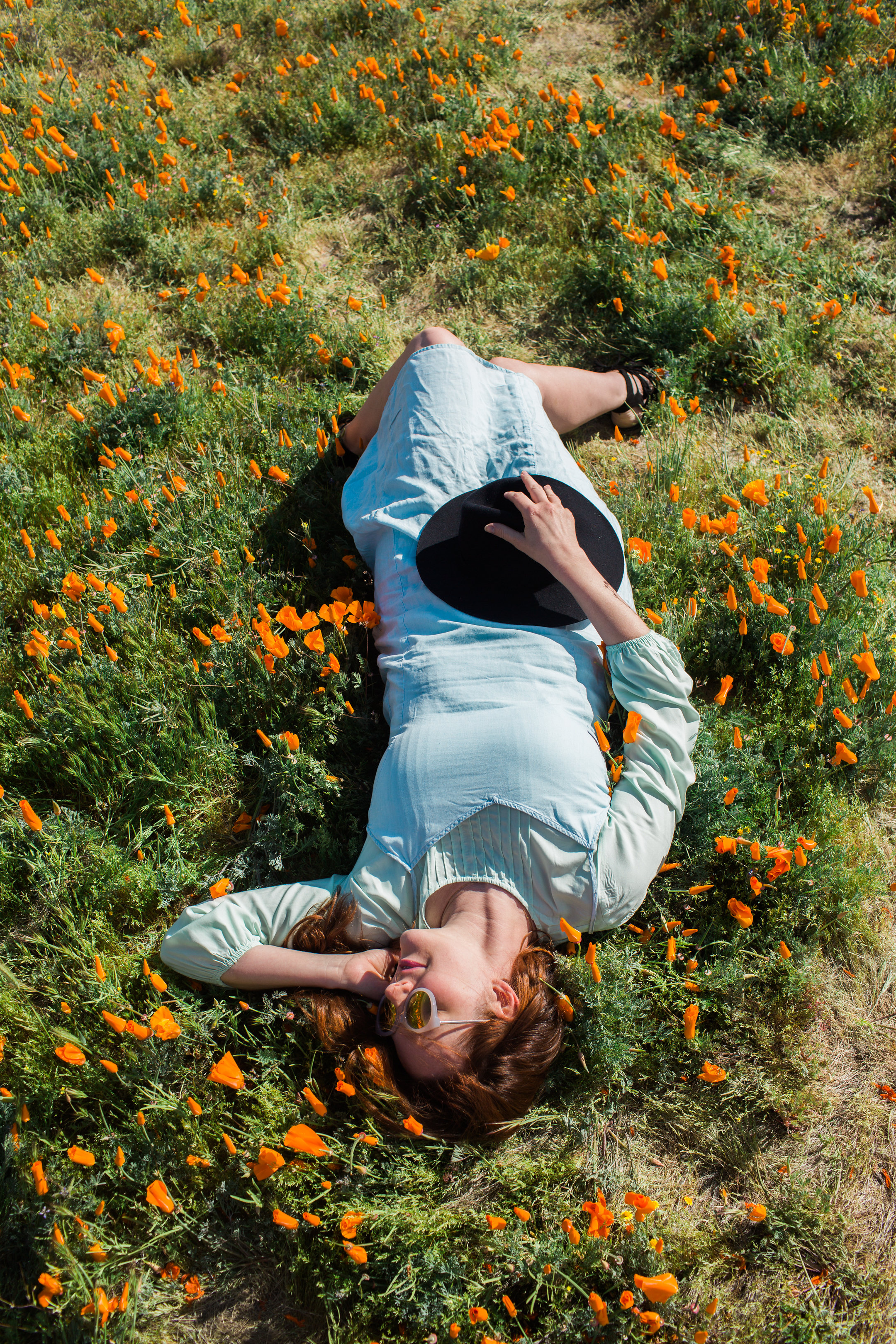 Like I said, we enjoy the shirts under dresses. Maybe you've noticed, maybe you haven't but Summer and I (mostly) stick with sleeves. And for gals that like to wear sleeves, dresses can be slim pickins' when it comes to Spring and Summer. We know, we feel you. But don't be sad, don't feel the FOMO, make it your own! Throw a pretty top, or a simple top underneath it and done. Actually it totally adds an element of style and interest. We think so anyway. Tell us were not wrong for thinking this. But even if you do, we are completely ok with it and totally gonna keep doing it. Here is Summer doing just that beautifully with a barely mint top under a soft Tencel dress, while looking so relaxed on a bed of poppies. You should try it.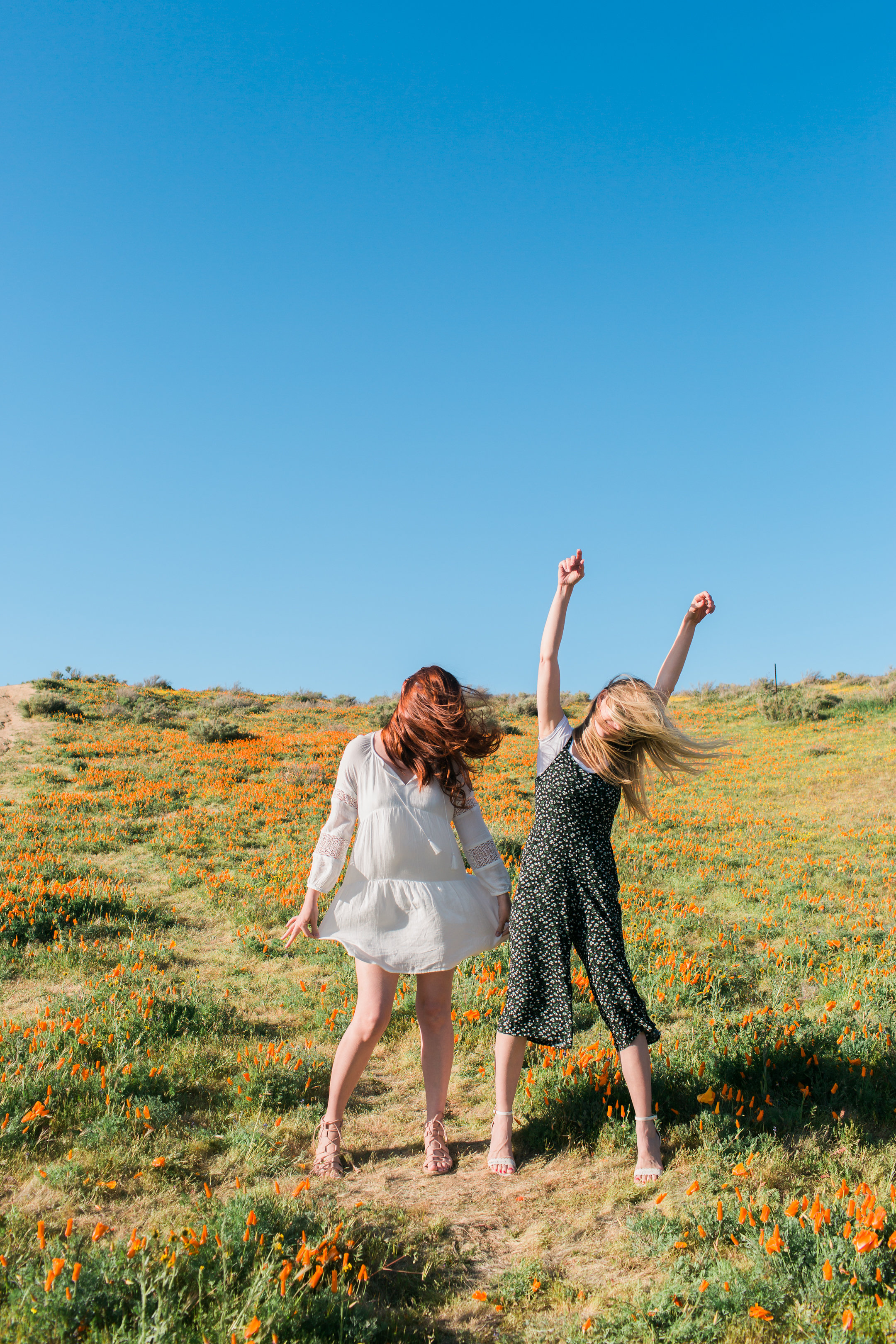 Throw your hands up in the air if you're into the romper craze! Obviously I'm on board. I've SHAMELESSLY worn this exact outfit three times this week. However if you've got a pretty white flow-y dress on a windy day, play it cool like Marilyn and Summer and maybe keep your hands on the hem! Otherwise, be free!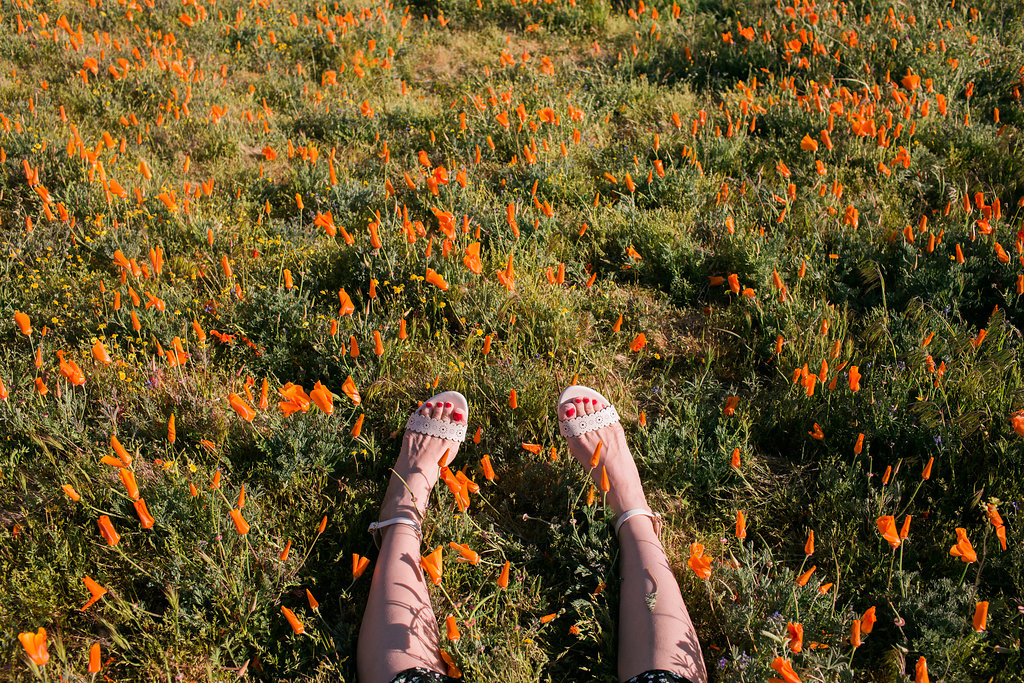 Can we get a close up on dem shoes? These white heels with the the laser-cut scalloped edged strap are super sweet to wear all spring long!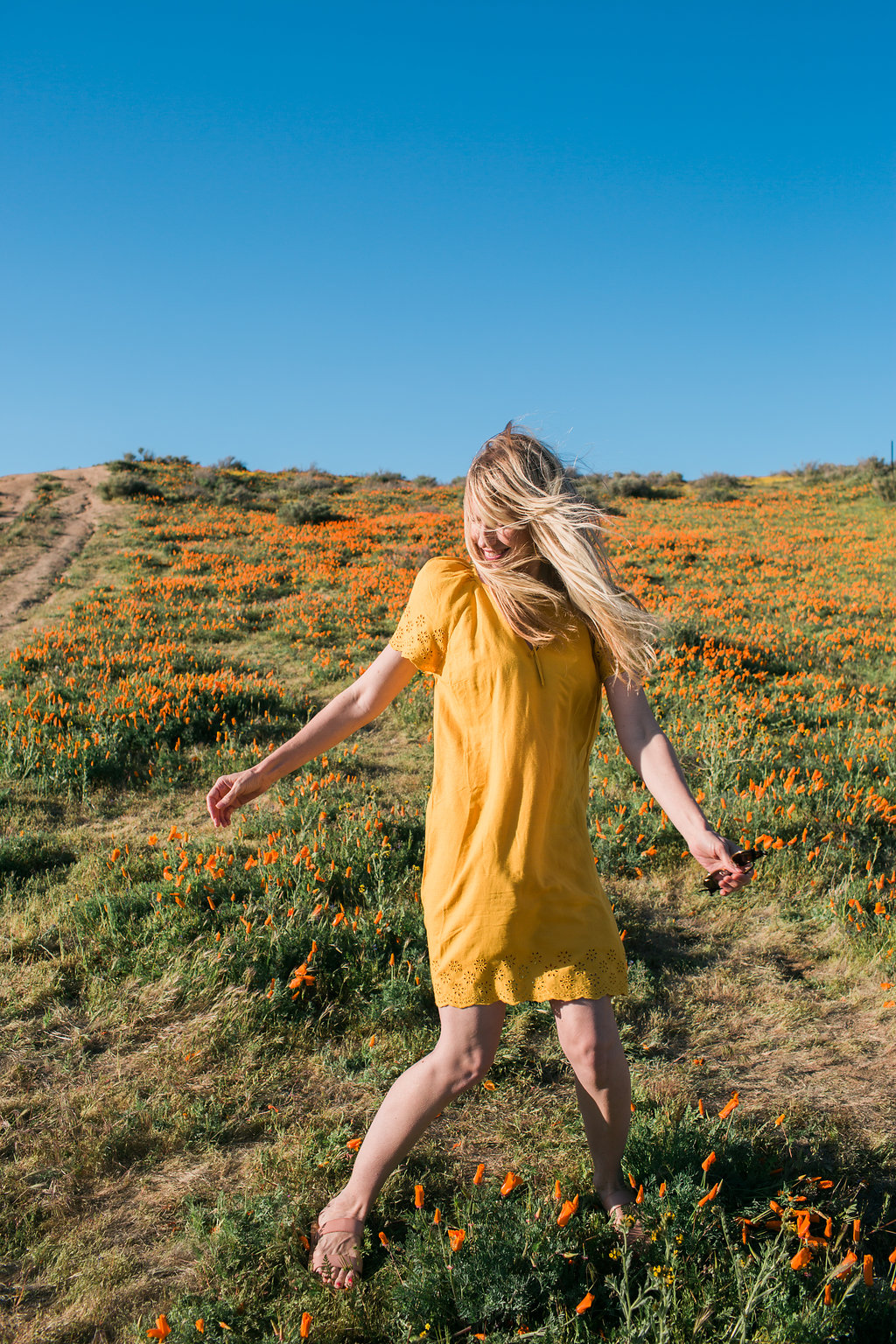 Also, the floral trend isn't reserved just to floral prints! You can most certainly find it in more subtle forms, such as on this solid yellow linen dress. Cause just set your sights upon the bottom of the dress and the hems of those sleeves?! See those little floral cut outs?! Thats what I'm talking about. Flowers, they are your friends people. They are special friends to all who live upon these earth. Live them, love them, wear them.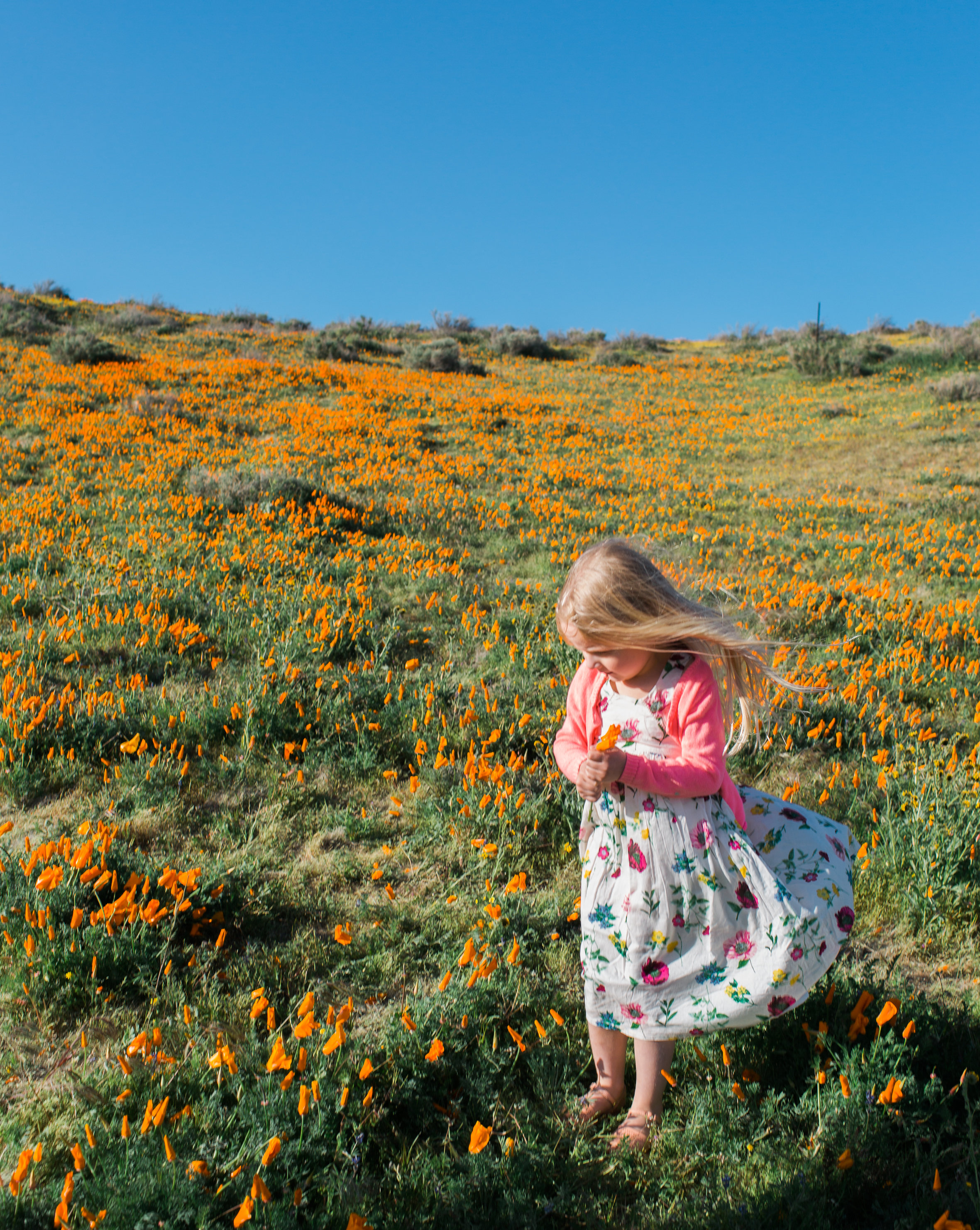 This is my daughter London. She is a wonderful girl, and truth be told, she was very cold out there and sort of sad about it cause she was really excited to take a picture for the "photo shoot" but just too chilly to be getting into it. So here is a picture of her doing her best and holding a pretty little poppy. But that FLORAL MAXI DRESS?! It is truly amazing and I am so happy she has it to wear all season because there's another print that is just too good to be true. Love the dress, love the girl.

More close ups on dresses and shoes, because, shoes matter. Also: Dear Old Navy, Please make London's sandals in my size. Sincerely, Brooke. Until then I'll keep wearing my double strap slip-ons non-stop. They're superb.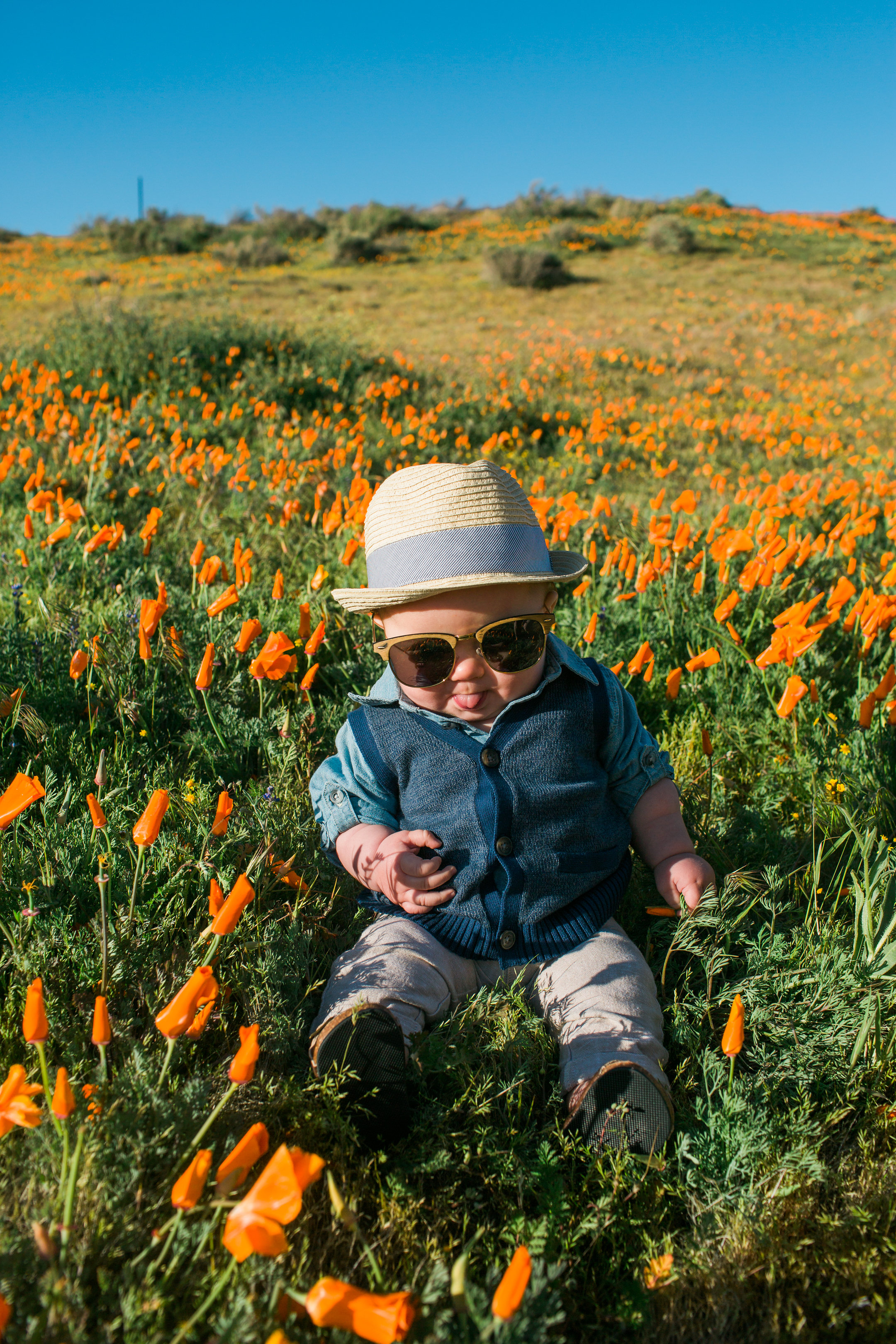 Meet Sonny, my Son, my sunshine. He is the meaning of joy. Look at that tongue and the sunglasses, the pants, the sweater vest over the chambray shirt and the hat and the whole outfit. He kind of looks like a dapper old man who just came home from a vacation to Florida and I love that about this look. Just can't get enough.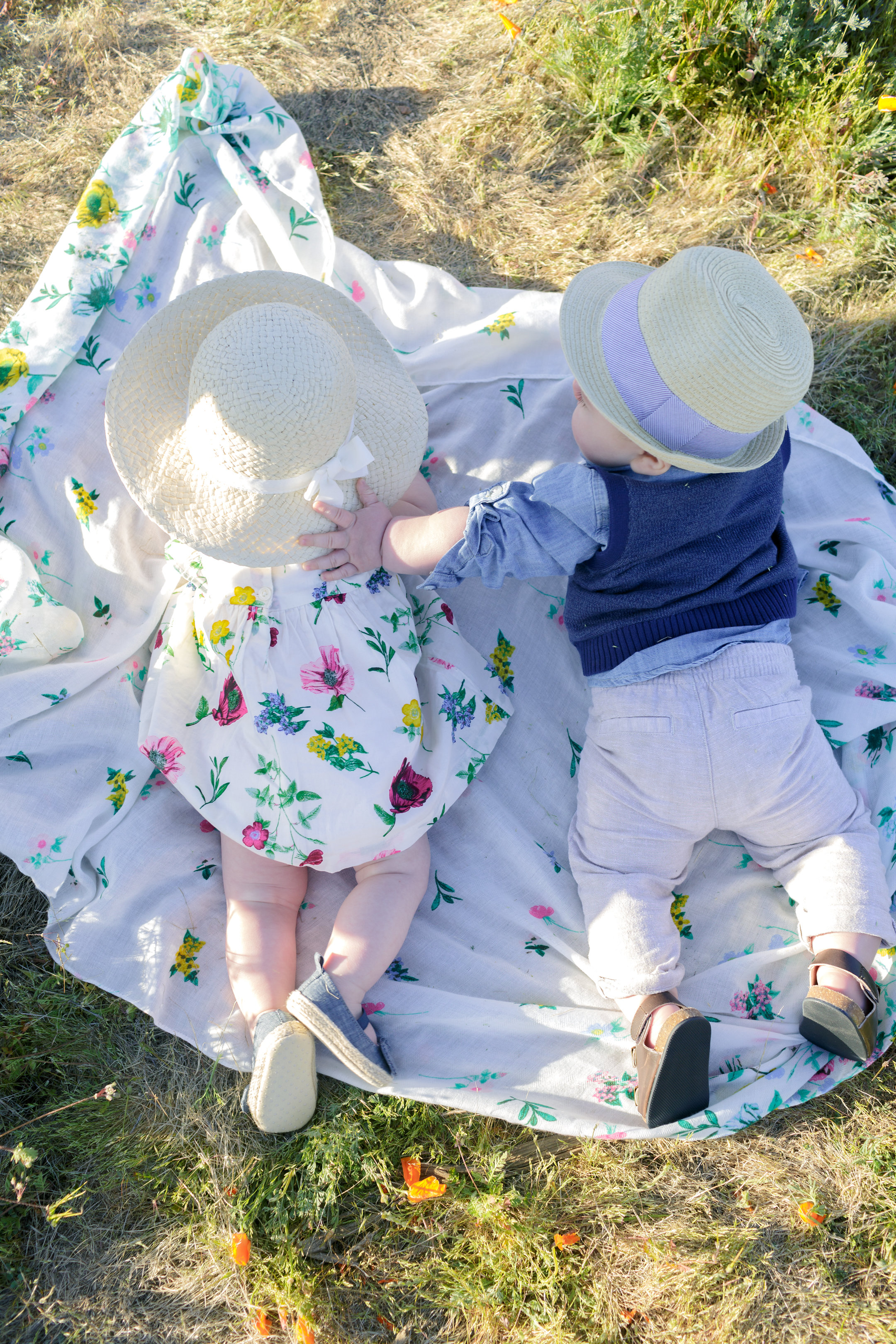 Promise me your won't scroll to fast pass this one, because Cue "Baby Love" by The Supremes! Here are two babies, that we love, and love each other. Sonny will always have Nova's back. We are thinking an arranged marriage is in order. But this whole scene is almost too much to take. How brilliant is Summer for picking out that floral scarf and then using it as a blankie for these two little love birds?! And there is Nova rocking that print on that dress again. Also, both wearing hats and sandals. More than we can take!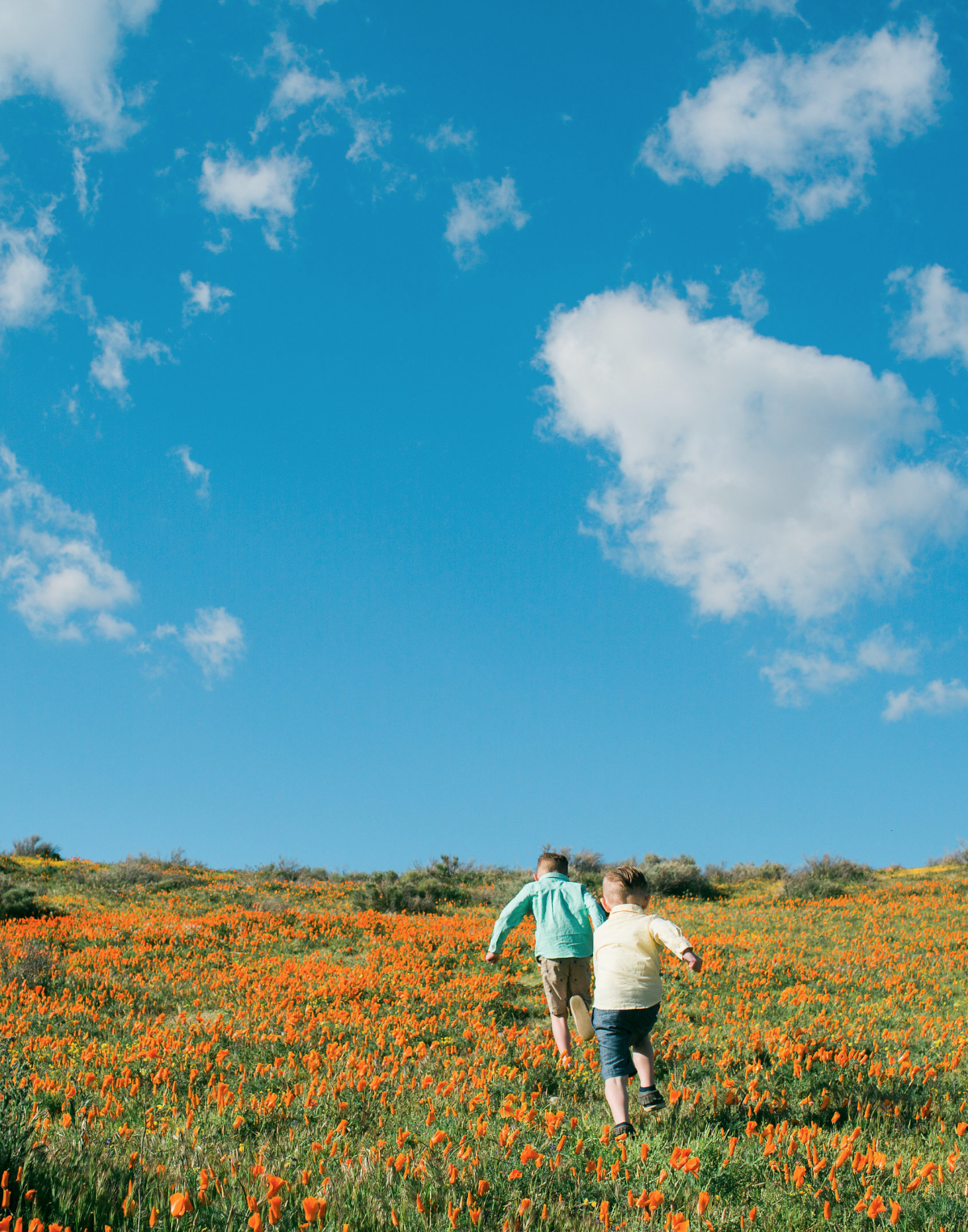 Lastly but not least, are these two cool brothers not letting the wind keep them down! Rockwell and Phoenix have their cool button down shirts and shorts on and they are heading for the hills! And the hills are alive… any who, you get the idea! They are having fun and enjoying this delightful scene. We sure hope that you enjoyed it too, and that perhaps we inspired you to pick up some pretty floral fashion. Like we said before, these looks and this post was brought to you by Old Navy. Seriously, we love Old Navy. It's just blooming amazing!