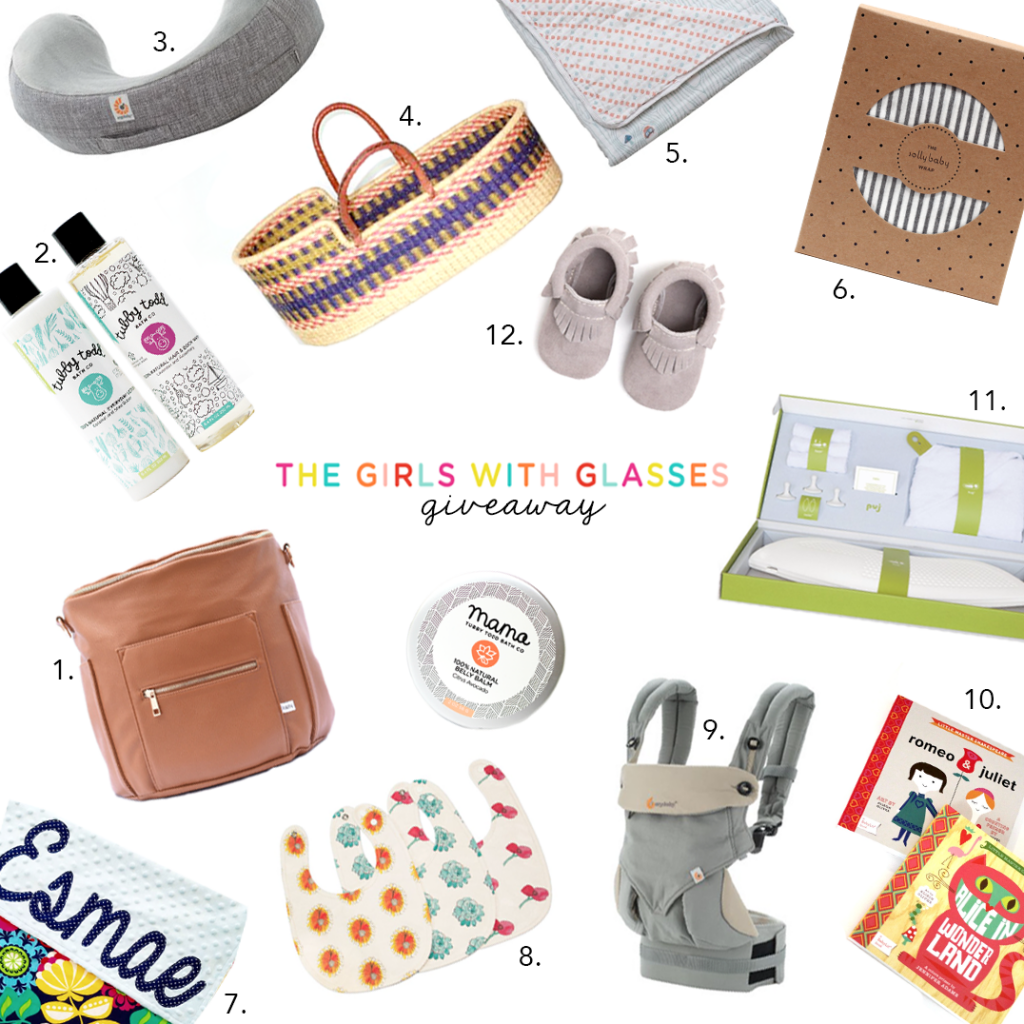 Yay! It's a Girls with Glasses Baby Faves Giveaway! This is rare for us, we almost never do giveaways anymore, however with these babies coming, we have been on the search for the best new baby gear, and have been blessed with some wonderful friends who happen to be the brilliant minds behind a lot of latest and greatest stuff out there. So we wanted to share the love with what we've found, and want to thank the companies, (many of them small businesses like we mentioned) for being a part of such an incredible giveaway!
Here is what one lucky mama will get (as numbered in the photo above)!:
1. FAWN DIAPER BAG/BACK PACK: We are IN LOVE with this incredible bag, we love that it is so high functioning while keeping a very clean understated look that works with our everyday style!
2. TUBBY TODD BATH CO:  Cutest packaging, amazing smelling, all natural bath products for baby, and now they have a beautiful line of products just for us moms to keep us feeling fresh, and help ease the pain of breastfeeding!
3. ERGO BABY NURSING PILLOW: Ergo is a solid brand known for their carriers (also included in this giveaway) they also have an awesome pillow to keep that baby in proper position while nursing.
4. PLUM & SPARROW MOSES BASKET: Absolutely gorgeous and cozy woven Moses Baskets for your little one, so light and easy to carry around from room to room, and looks as pretty as it is functional!!!
5. BEBE AU LAIT BLANKETS/NURSING COVER: This blanket is light but also has an extra layer of coziness to it, would be great to lay on the floor and works for any season, we love how soft it is! Also not pictured, you will also receive a great nursing cover!
6. SOLLY BABY WRAP AND SOLLY DOLLY: The best baby wrap in the biz! Anyone who has tried it, loves it and can't live with out it! Perfect for wearing your baby nice and close while you are hands free doing all the things a moms gotta do!
7. SEW SARA CUSTOM NAME BLANKET: Every little one should have a blanket with their name on it. It is easily London's favorite blanket, she sleeps with it every night. So soft and cute, and personal!
8. MONBRIGO BIBS: the softest, prettiest, classiest eco-friendly bibs around. You're babies neck will thank you!
9. ERGO 360 BABY CARRIER: Whether your baby is facing in or out, they will be comfortable (as will you!) and and you can rest assured they will sit ergonomically correct which is important for their little growing bodies! A very popular favorite among parents!
10. BABY LIT BOOKS: Hands down our favorite books for our little ones! Great classic stories simplified, with the cutest hippest illustrations you've ever seen!
11.  PUJ BATH PRODUCTS: The Puj will change your life making it so easy to bathe your baby. They fit right in your sink for you to safely wash your babe, and keep them comfy. Also the hug towel is the greatest thing since sliced bread, everything included in the kit is top notch!
12. FRESHLY PICKED BRINGING HOME BABY BAG: No Baby Favorites Giveaway would be complete with out a pair of Freshly Picked Moccasins. Believe the hype, there is no better baby shoe out there, we know as we have been putting them on our own babies since the beginning. The only shoe that would fit London "tall" chunky feet. And it doesn't stop there. They're also giving a whole bringing home baby bag!!! Lot's of amazing things in there!
HERE'S THE SCOOP TO ENTER TO WIN:
1.) Follow @thegirlswithglasses on Instagram
2.) Tag a friend on the Instagram Post. Each tag is an entry, please tag each friend in a separate comment! Enter as many times as you like!
Winner will be announced Wednesday August 24, 2016!