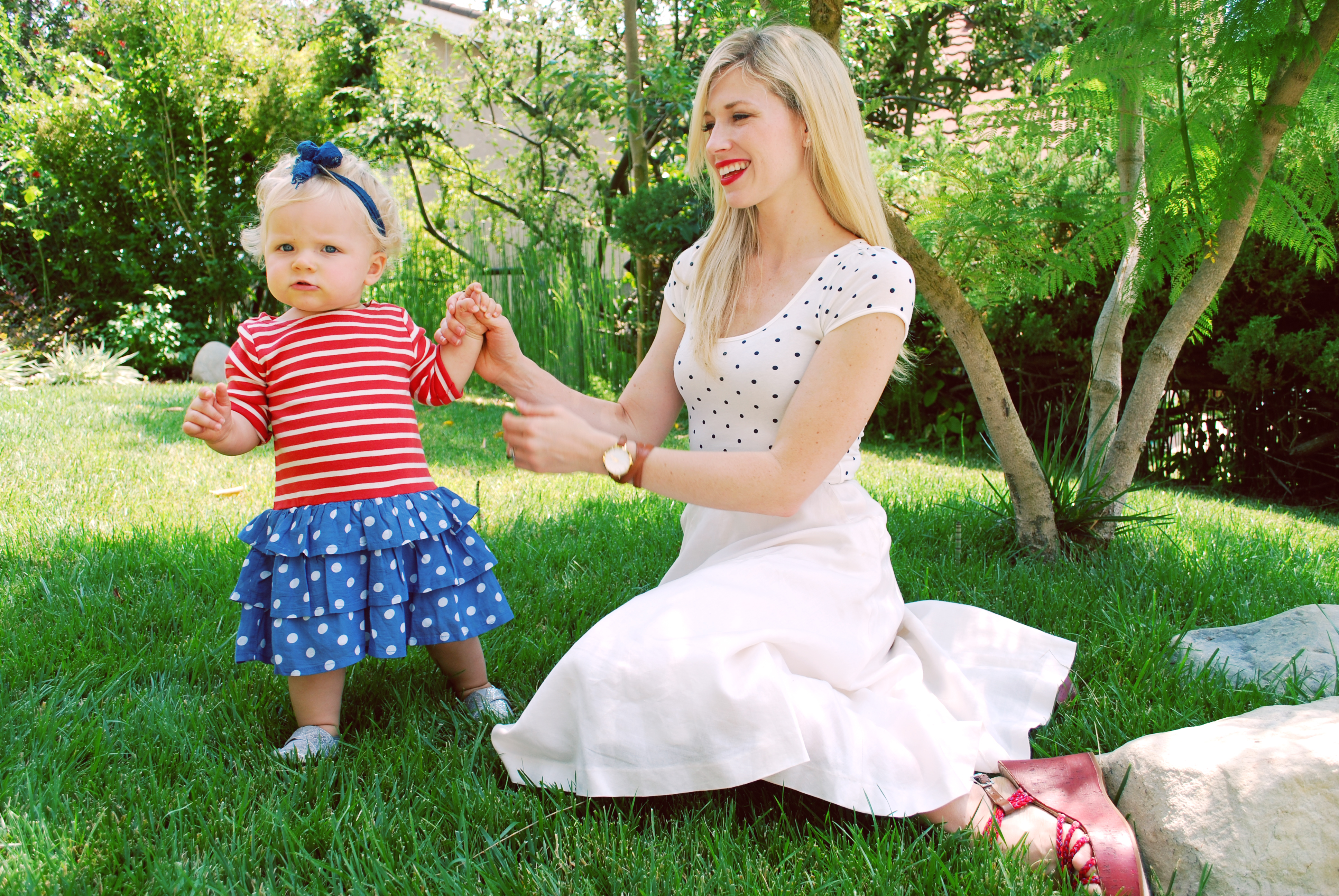 Happy belated 4th of July to y'all! Did you BBQ? We had mexican food and pizza, ha! Did you catch fireworks? We put Loo to bed and then watched the end of "banner 4th of July" on the Hallmark channel, which had some fireworks in the end of the movie while the credits were rolling… does that count?! A couple of patriotic party animals we are huh?
 I know that Independence Day came and went nearly a whole week ago, but I think July gives us all a pass to wear our red, white and blues the whole month through! I think it's probably one of my favorite color combinations, so classic, crisp and clean and yet so bold and contrasty! However sometimes it is a difficult combo to pull off the other eleven months of the year without looking like a walking fourth of July parade (super fun btw) . So we are gonna wear it out while we can!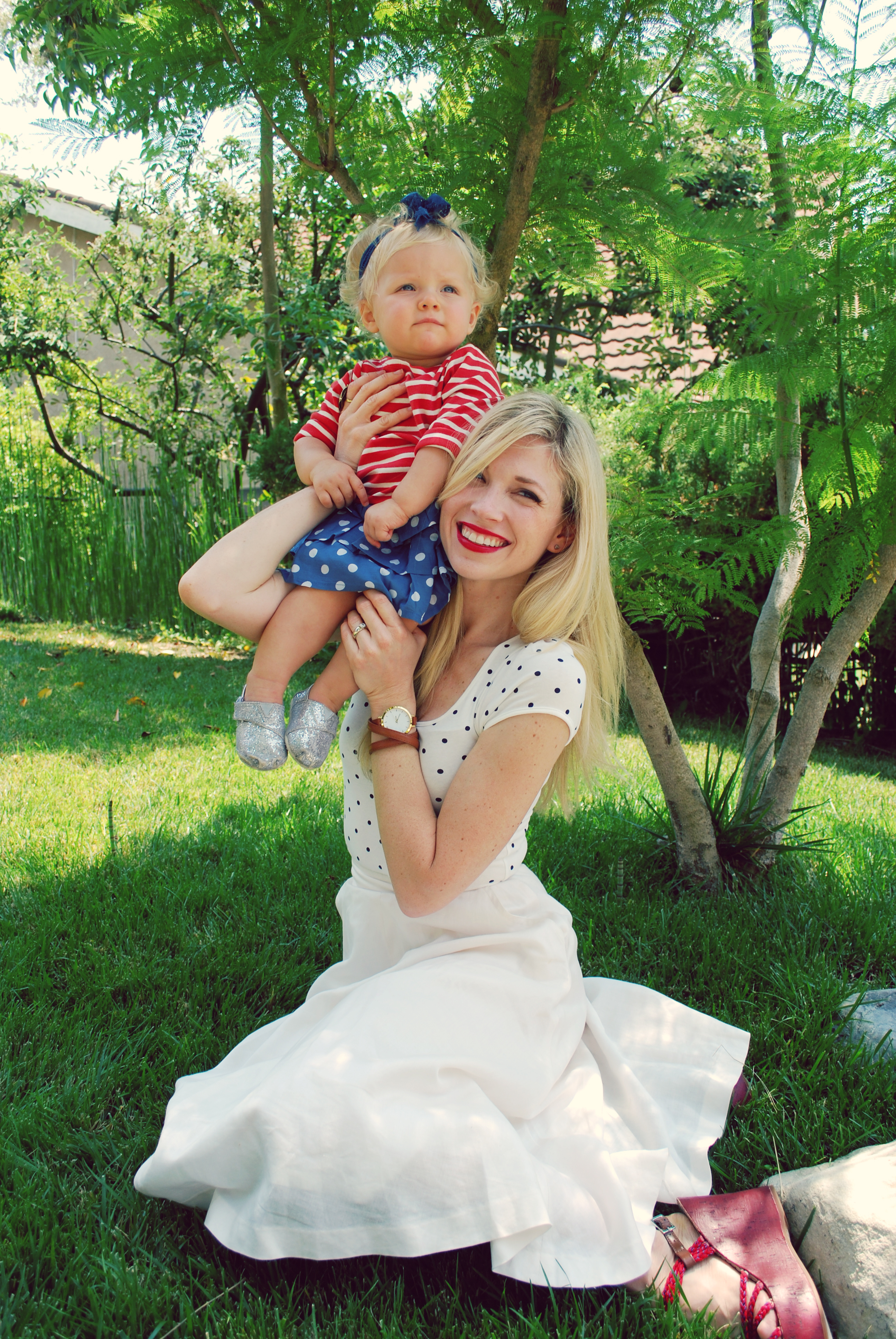 New series here on GWG, I'm callin' it "Me and my Loo"… just a lil' style post. I've never really been one to do a "look what I'm wearin" kind of thing, cause I suppose I feared leaning in that direction felt a bit materialistic for me…  however, I was thinking about it, and I love being inspired by other peoples style posts. And you know being an artsy fartsy gal, I do find it fun to put together looks that make me feel happy, comfortable and confident and represent who I want to be. I am a thrifter and a mega deal shopper so the majority of the clothes I put on my body have either been worn by someone else, or came off the clearance rack (usually the 70% rack at Target:) When I knew I was having a baby girl, I admit I was so stoked to dress my lil' dolly up… and honestly, it's my favorite, she is my favorite. When it comes to dressing my Loo, I take  a similar approach to my own, little kid clothes get hammered quick and they grow out of them so darn fast that I don't believe in spending loads of cash. And I truly believe you don't have to, to have good style. So in coming up with this idea for posts, I thought it would be kinda cute to do a mama daughter deal… though you will never find us wearing matching headbands and socks, definitely not trying to be too matchy-matchy, but to have some complimentary looks. I know when we are at home it is a triumph just to change out of our jammies some days, however I think when we get around we feel better and get a few more things accomplished. Everyday life doesn't have to be super fancy, but it should be fun! I know I am a happier mom, artist, wife and person when I am creatively expressive… and getting dressed is just part of that expression!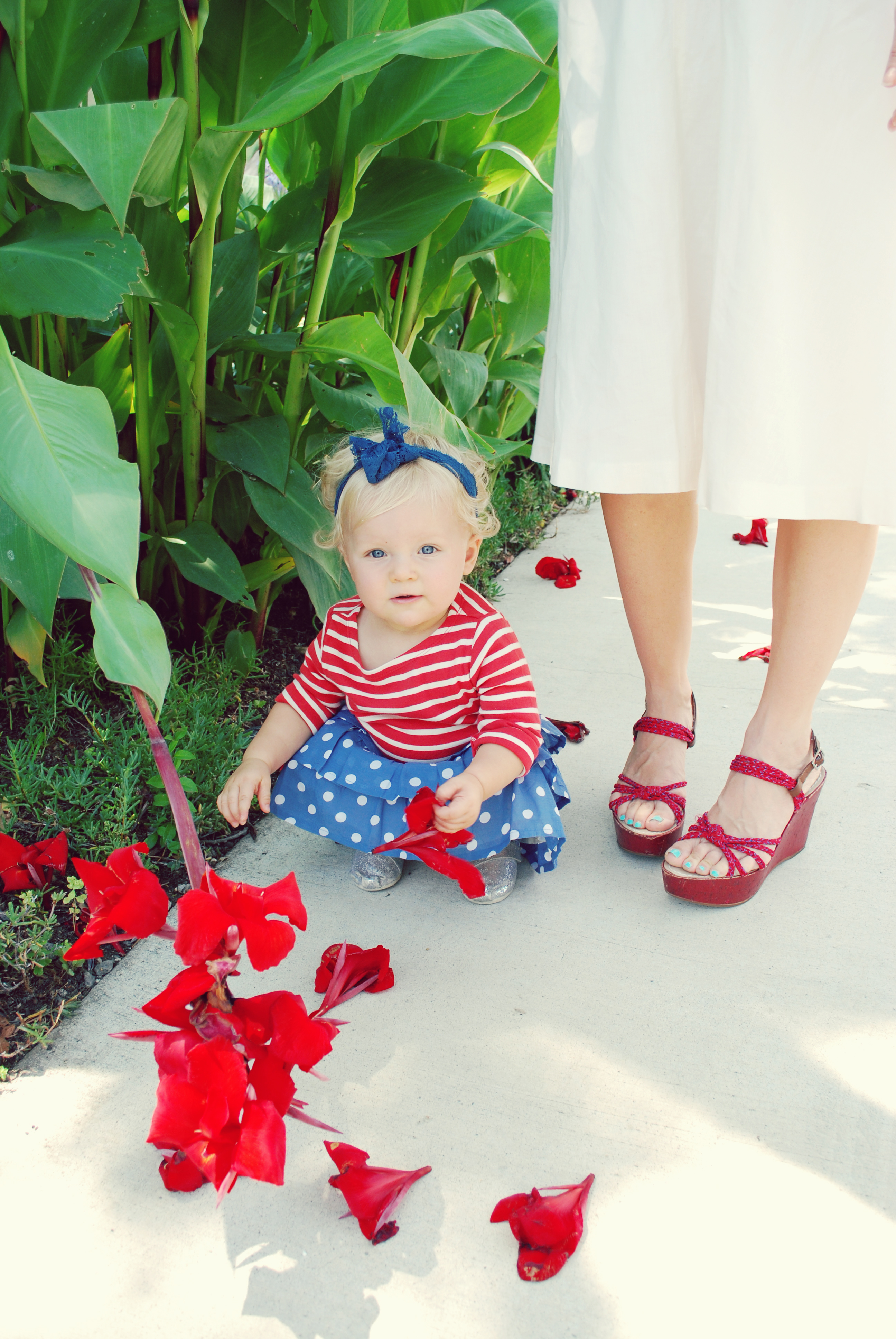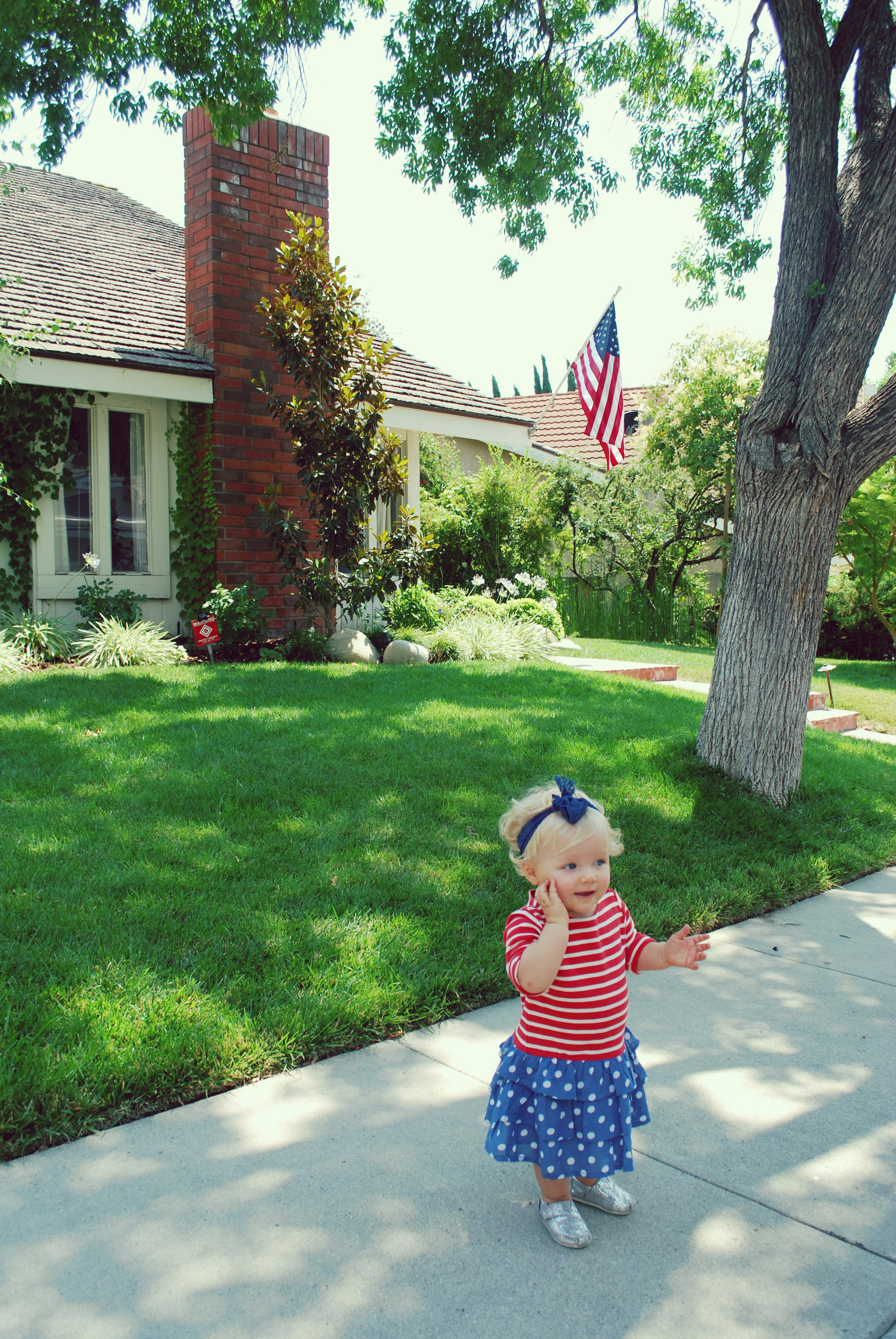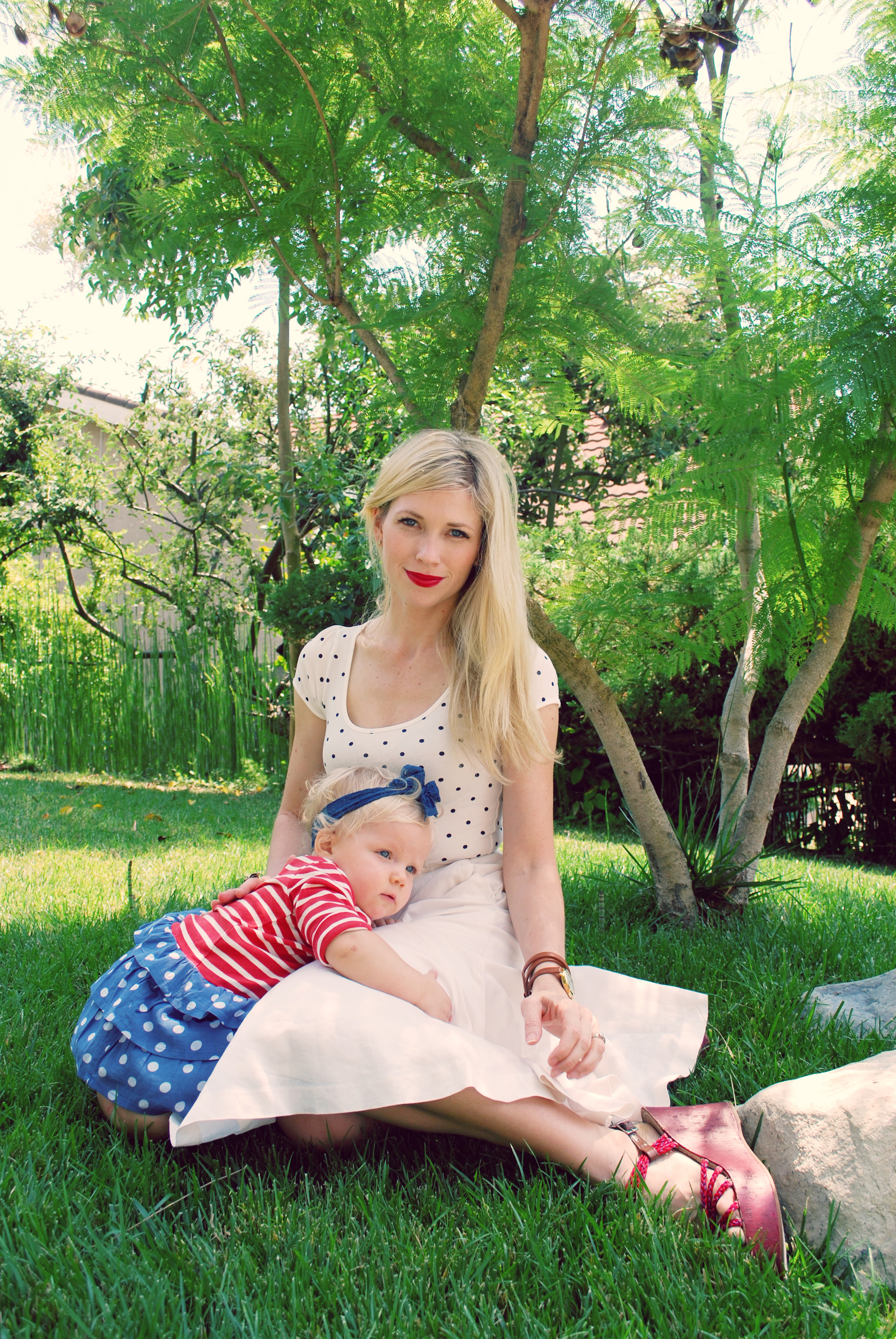 Photos taken by Priscilla Chang
Skirt-Vintage Joie
Shirt- Forever 21
Wedges- Miss Trish of Capri for Target(2009-practically vintage)
Watch- Feral Watch (Little Miss Momma pick from Brickyard Buffalo)
Loo: 
Dress- Mini Boden at Nordstrom
Headband- Made from stretchy lace
Shoes- Glittery Toms (a.k.a. stinky Toms- who knew babies' feet could smell?!)