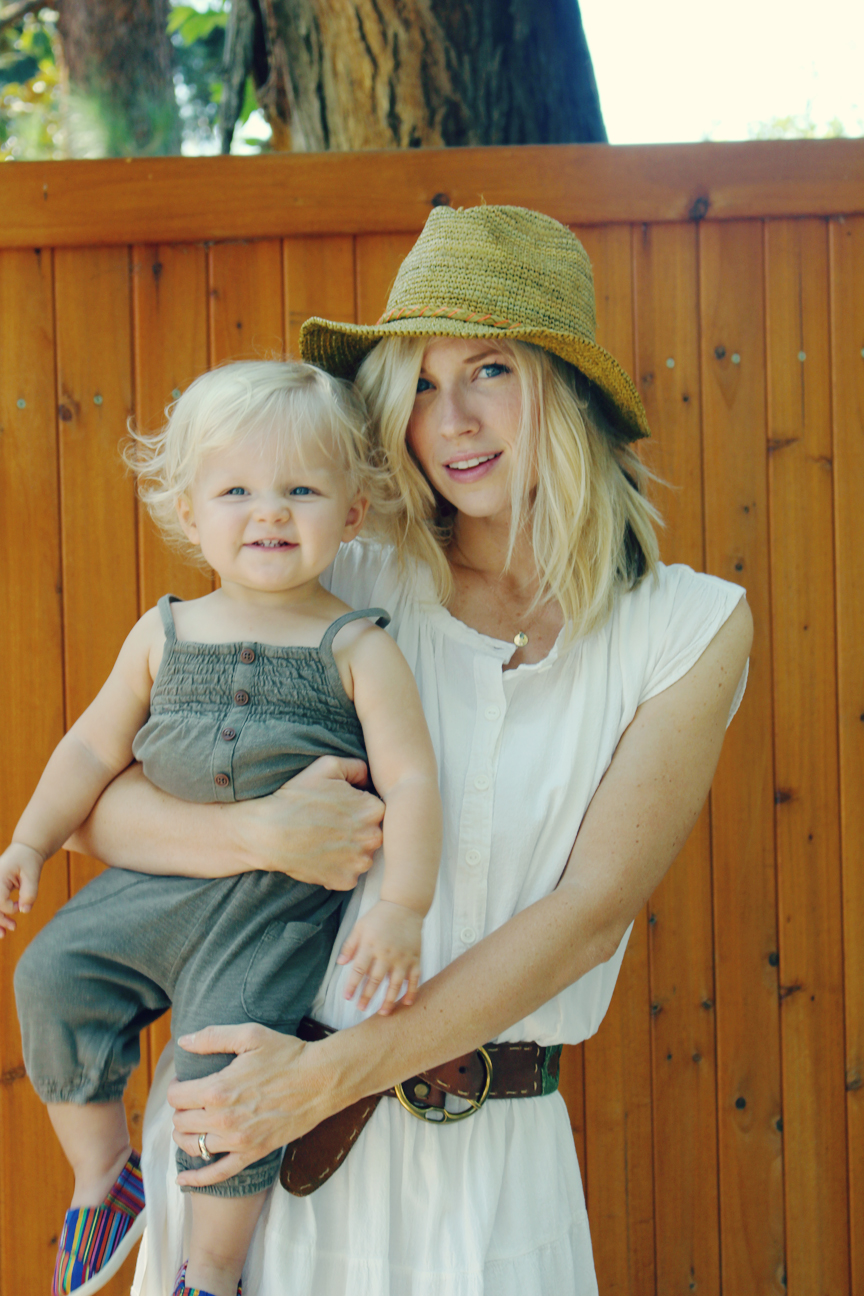 I know the kids are back to school and the walls and racks at my local Target are filled with long sleeves and knits in blacks and greys and dark muted tones, and my beloved clearance rack is nearly void of the bright colors of my favorite season… but I'm still hangin' on, Summer's not over yet folks! Can we not live in the moment, Before you know it, we'll be off to the races and they'll all be pushing us into Christmas!
Is it just me, or has this felt like the fastest summer of your life? As I mentioned in this post… for me, Summer is the most wonderful time of the year. Granted I live in California, the land of the endless summer, but  I just can't get enough of these long sunny days, warm breezy nights at the park and bright early mornings for walks with London. I have more energy this time of year, and I feel like I can conquer the world. Don't get me wrong, Fall is a beautiful season, especially in places where the leaves change and the air turns crisp, but when the sun starts setting at 5pm, I get the blues. But for now, the temperature is still rising and the sun is still shining and I am going to go to enjoy Sunday drives to the beach after church and stay in Summer for as long as it will let me.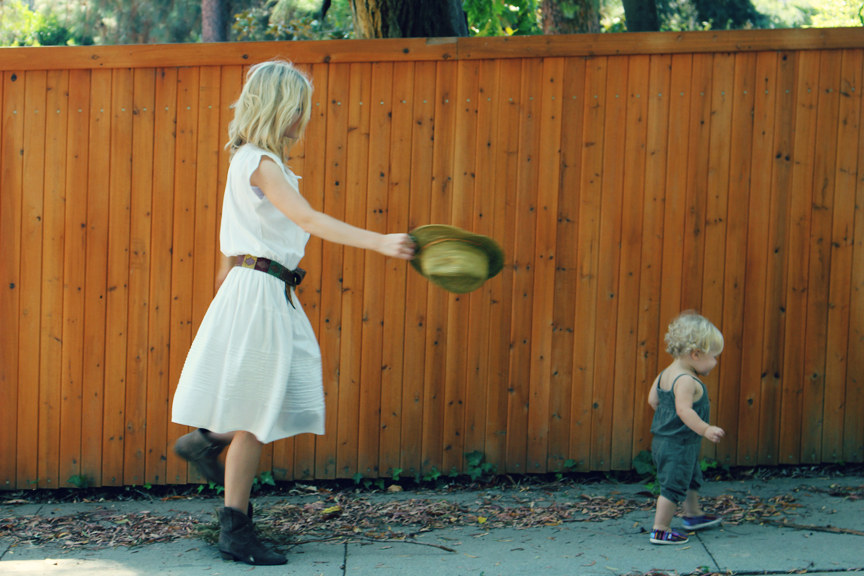 Lately, when it comes to clothes, I have been feeling the need for the natural. To keep it easy, and fresh and light… not too many accessories or layers. I love bright colors and mixes of busy patterns, but there is nothing like bright whites and neutral khakis.  I went to Santa Barbara for a quick girls trip with my mom and sister last weekend, and my cute sister Katie, surprised me with this beautiful little dress she found at Crossroad's, a favorite resale store of mine that I shop regularly for unique finds and steals and deals. I have decided I might wear this dress until the season is through… so comfy, so effortless. Then I pair it with these old beat up pair of boots that I scored at Lucky for 80% off about four years ago. They are like slippers, these are more comfortable and easy than flip flops. I wear them to the airport because they are so quick to take on and off going through security, I shop, walk and rock in these boots, and I've worn a solid hole in the right left side where my baby toe hits. It's breaking my heart to see these trusty companions fall apart. I just don't think there is any replacement. Anybody know of the perfect pair of boots like these out there? Lastly on this look, if you follow me on instagram, you know I haven't taken off this hat since I bought it in June, it's my birthday hat and pretty much the best purchase of the season. Some dude commented on one of my hat pictures and said "the scarecrow called and he wants his hat back", to which I say… not a chance he's getting it back.
And on the Londy Loo, is just the cutest, snappiest, hippest baby jersey jumper. We wear this one a lot. I bought it at Old Navy back in Spring, and her legs are already growing a little long for it, but she'll wear it until it become a short romper. I love little items like this, one piece and done, no fuss no frills, just cool. And then let's talk about the tiny toms! I was recently in Arizona singing at this event for teenage girls to lift and inspire called Time to Blossom. While I was there my sister heard through the instagram grapevine that there was a big Tom's  pop up wear house sale in Tempe, so naturally we had to go! Honestly we almost collapsed from heat exhaustion, as we rummaged through thousands of tiny Tom's in a giant sweatbox of a room. It was insane, but I did get five pairs of the cutest tiny Tom's you've ever seen for $50. Yep, $10 a pair. So I guess it was worth it. Honestly I have a hard time paying $30 and up for a pair of shoes that they will destroy or grow out of in a month or two. Loo chews her shoes to bits, she seriously nibbled all the sparkles off her sparkle toms, drives me crazy. Be on the look out for these sales, such a steal of a deal!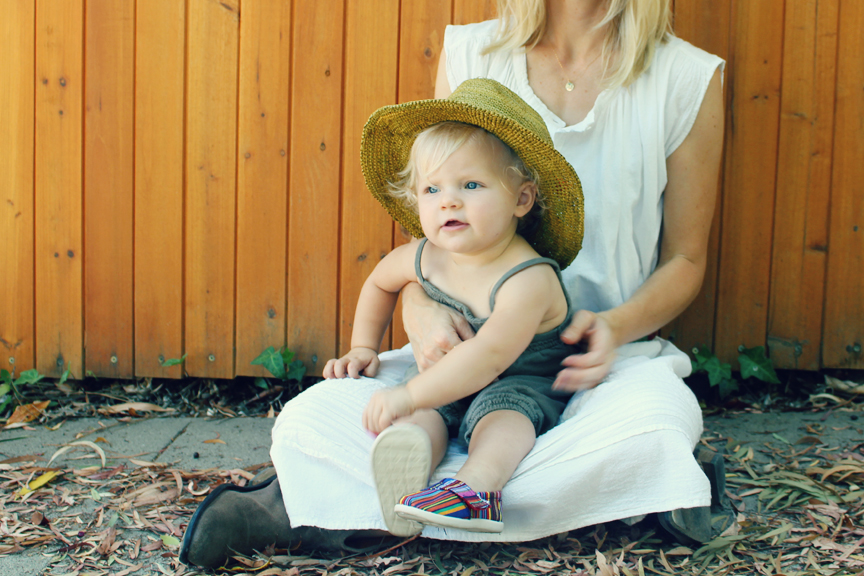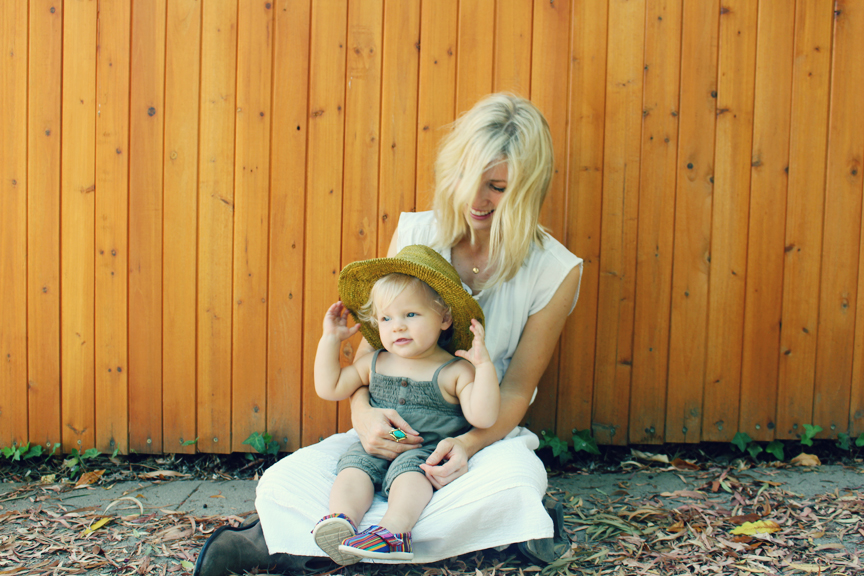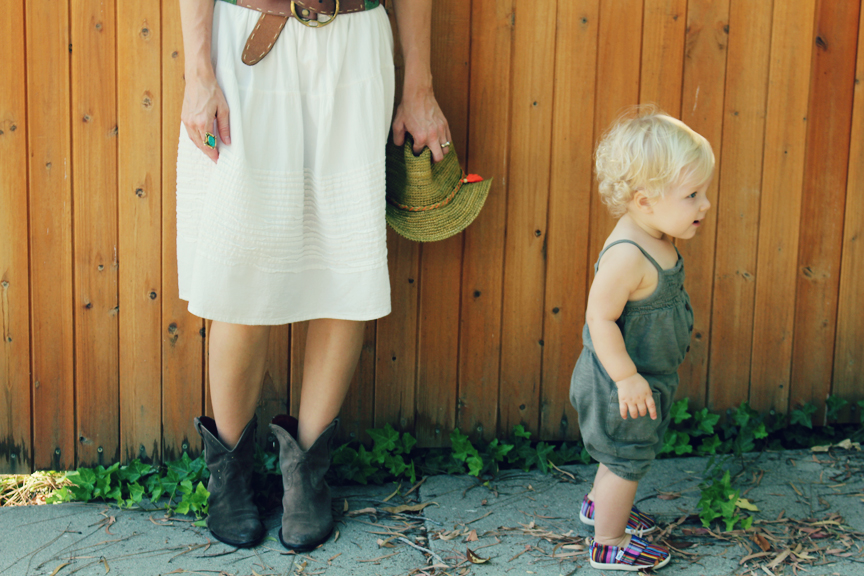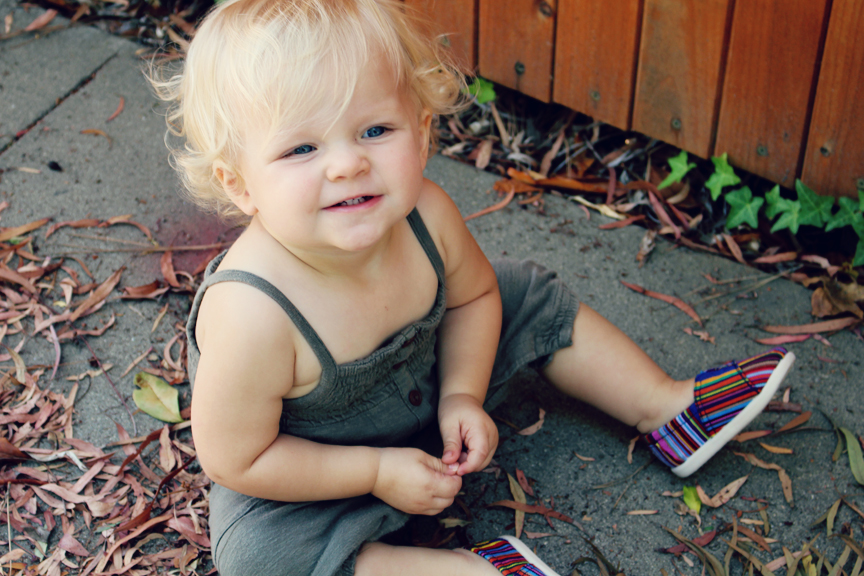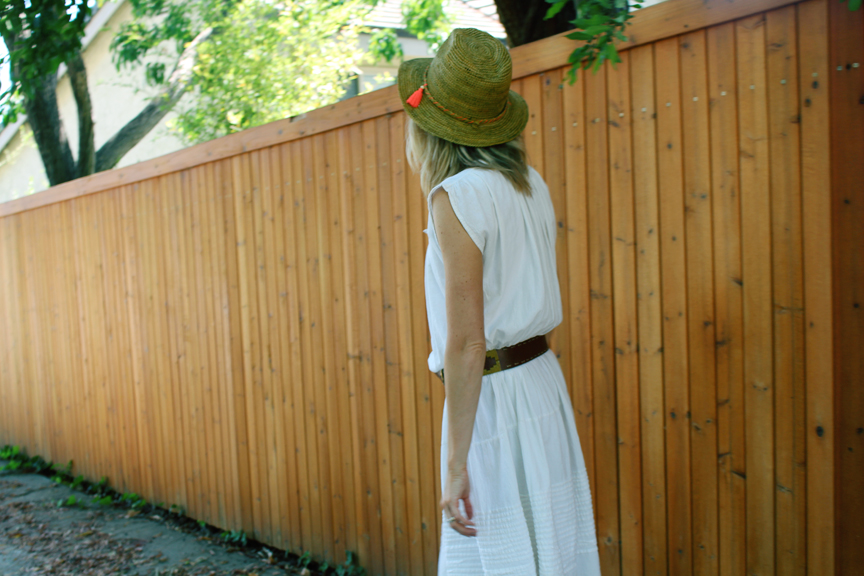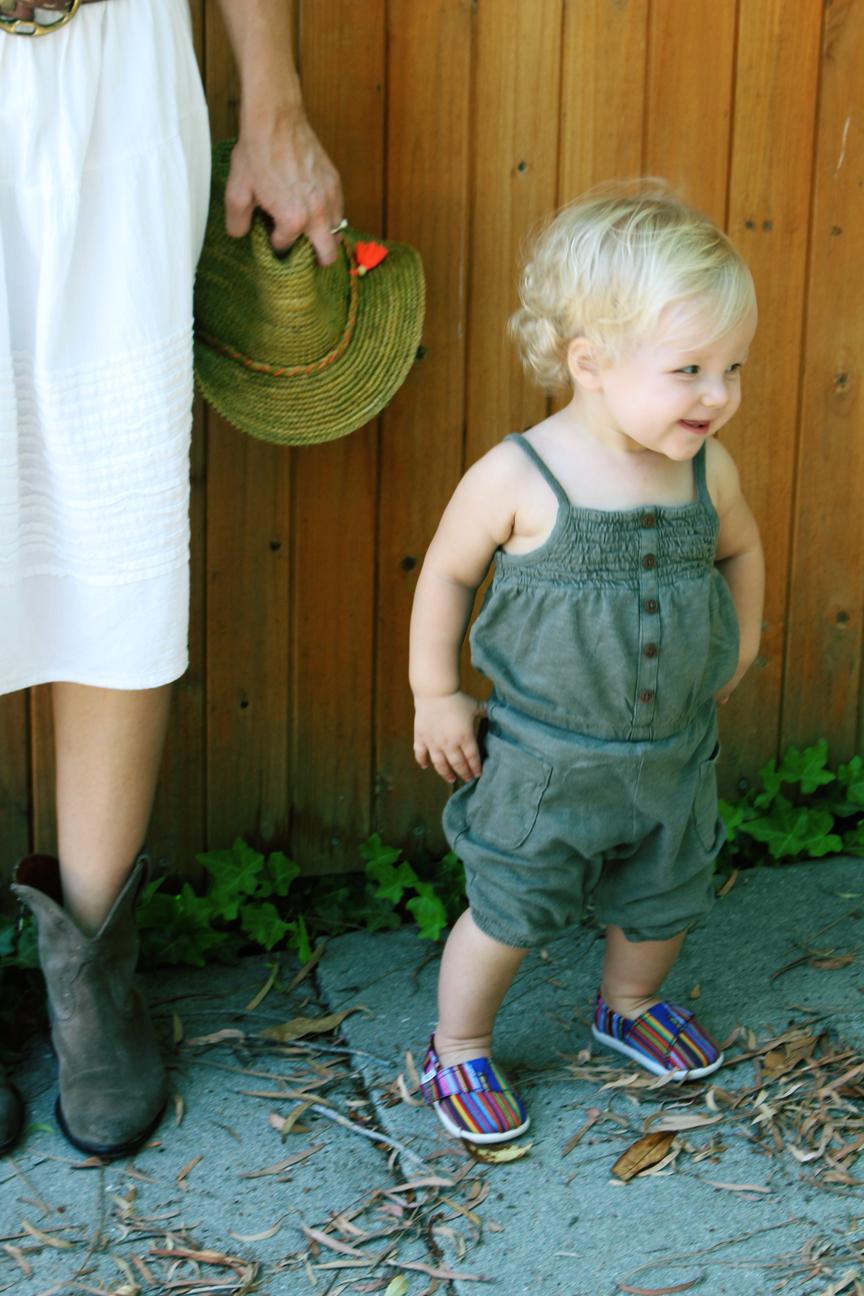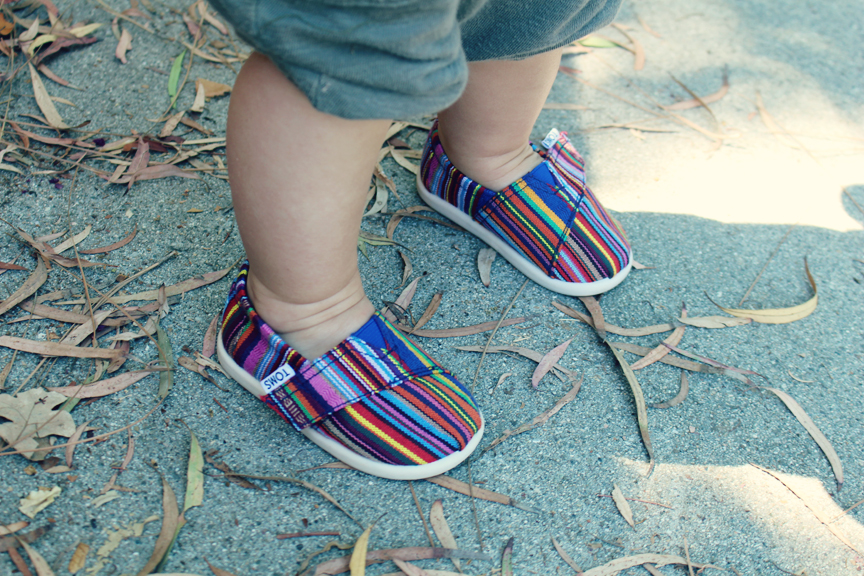 ME:
WHITE COTTON DRESS – VINTAGE FROM CROSSROADS TRADING CO. 
MY MOST FAVORITE HAT – MICHAEL STARS
BELT – LUCKY BRAND (BACK IN THE DAY)
BOOTS – LUCKY BRAND (ALSO FROM WAY BACK WHEN)
"L" NECKLACE – SOTO
MY LOO:
JERSEY JUMPER - OLD NAVY (spring, no longer in stock)
TINY TOMS – TOM'S WEAR HOUSE SALE
: )Brooke